Foreign spouses call for help with statelessness
IN LIMBO: Three women renounced their Vietnamese nationality before arriving in Taiwan and now they have neither the right to work nor national health insurance
Three Vietnamese women who were married to Taiwanese men yesterday appealed to the government to help them resolve their statelessness, which has left them without the right to work nor health insurance.
At a press conference called by Chinese Nationalist Party (KMT) Legislator Wu Yu-jen (吳育仁), the three recounted their experiences and their alleged mistreatment by their husbands' families.
Wu said their stories highlighted the flaws in the country's legal system with regard to protections that should be provided to immigrants and the stateless.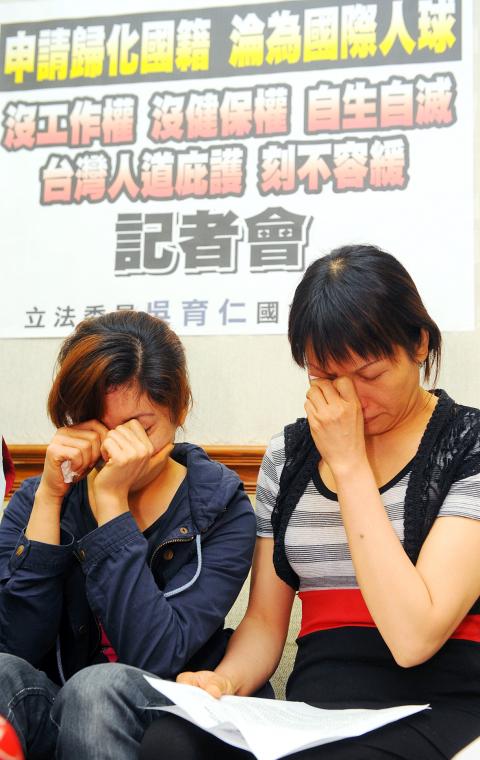 Vietnamese women weep during a press conference organized by Chinese Nationalist Party (KMT) Legislator Wu Yu-jen in Taipei yesterday to highlight flaws in the legal system that have led to many foreign spouses becoming stateless.
Photo: Wang Min-wei, Taipei Times
A woman surnamed Huang (黃) said she was brought to Taiwan under the guise of a fake marriage 10 years ago. Pei (裴), married to a Taiwanese national in 2002, said her husband forced her to agree to a divorce in 2008 and she was falsely accused by her parents-in-law of beating them.
Li (黎) said her mother-in-law forced her to divorce her husband in 2008, six years after their wedding when her husband was in custody because of drug violations.
Before they came to Taiwan, the three women all renounced their Vietnamese nationality to meet the requirement stipulated in Article 9 of the Nationality Act (國籍法) that foreign nationals who apply for naturalization must provide certification of the loss of their previous nationality.
A victim of human trafficking, Huang is not qualified to apply for naturalization. Pei and Li said their applications had been repeatedly rejected for reasons such as "integrity problems." They did not elaborate.
Li, who had a child at a young age, appealed to stay in the country, saying it would be hard for her if she returned to Vietnam because she wouldn't be able to see her son.
"I want to stay and have the right to work here as my son grows up," she said.
Huang said she lives on donations offered by her Vietnamese compatriots over the years and she has learned to cook with their help.
"I have been a law abiding person during my stay in Taiwan and I have never broken any laws. I hope that the Taiwanese government can give us a chance to live here," she said.
Li said she wished she could return to Vietnam to be reunited with her mother.
Wu said there are about 138 people in Taiwan forced into statelessness after similar experiences, 107 of whom are originally from Vietnam.
Officials from the National Immigration Agency, the Council of Labor Affairs and the Bureau of National Health Insurance all failed to offer solutions to their predicament at the press conference, except to explain the rules and regulations, which Wu said were in need of revision to comply with international human rights conventions.
Lin Chen-chih (林振智), an official with the immigration agency, blamed Vietnam for the situation.
"In accordance with international conventions, the Vietnamese government is obliged to restore their nationality, but it has been negligent," Lin said.
Comments will be moderated. Keep comments relevant to the article. Remarks containing abusive and obscene language, personal attacks of any kind or promotion will be removed and the user banned. Final decision will be at the discretion of the Taipei Times.