Su Huan-chih registers for DPP vote
MORE COMING: Su Tseng-chang and Wu Rong-i are expected to register tomorrow to run for the DPP chair, with two other potential rivals expected to run as well
Registration for the Democratic Progressive Party's (DPP) chairperson election began yesterday, with former Tainan County commissioner Su Huan-chih (蘇煥智) the first candidate to register.
Su filled out a registration form and submitted the NT$1.5 million (US$51,000) registration fee at the DPP national headquarters in Taipei yesterday morning.
Intense competition is expected for the party's top job, with four other potential candidates expressing an interest in running: former premier Su Tseng-chang (蘇貞昌), former vice premier Wu Rong-i (吳榮義), former DPP chairperson Hsu Hsin-liang (許信良) and former DPP lawmaker Chai Trong-rong (蔡同榮).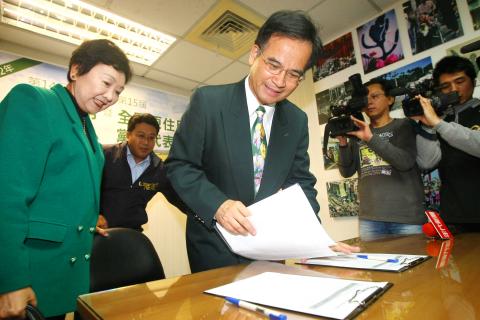 Former Tainan County commissioner Su Huan-chih yesterday takes an application form for the Democratic Progressive Party's chairpersonship election at the party's Taipei headquarters.
Photo: CNA
Su Tseng-chang, who is seen as the strongest candidate, and Wu are expected to register tomorrow, their offices said.
The five-man race would be "healthy" for the party, which is in dire need of reform, vision and vitality, Su Huan-chih told reporters after completing registration, adding that he holds the advantage of being younger than his potential rivals at 55.
"Young leadership is a global trend. Even the Chinese Nationalist Party [KMT] has been moving toward a youth movement with Vice Premier Jiang Yi-huah (江宜樺) and New Taipei City Mayor Eric Chu (朱立倫)," he said, citing Chinese Vice President Xi Jinping (習近平), 59, and British Prime Minister David Cameron, who became head of the Conservative Party in 2005 at the age of 39, as examples.
Su Tseng-chang is 64 years old, Hsu is 70, Wu is 72 and Chai is 76.
Su Huan-chih denied his entry into the race was part of an "anti-Su Tseng-chang" effort and said he was not promoting a "generational change," which has been interpreted as an effort by younger DPP members to eliminate the influence of party elders.
Su Huan-chih said he would be a fair leader without affiliation to any faction.
He urged the party to organize at least three public debates so candidates would be able to present their ideas on party reform, the party's China policy and other issues, such as lobbying efforts for a pardon for former president Chen Shui-bian (陳水扁), who is serving a prison term for corruption.
Shen Chih-ling (沈志霖), a DPP member in his 30s, took a registration form yesterday and expressed an interest in running on behalf of a group of young party members.
However, Shen said he is NT$500,000 short of the registration fee.
The deadline for registration is Friday.
Comments will be moderated. Keep comments relevant to the article. Remarks containing abusive and obscene language, personal attacks of any kind or promotion will be removed and the user banned. Final decision will be at the discretion of the Taipei Times.