Minister urges respect for rural culture
DIFFERENT LENSES: The new cultural affairs minister said unlike urban areas, the cultural life of the nation's small towns and villages can be found in their temples
Taiwanese must respect and preserve the traditional culture of the nation's many villages, Council for Cultural Affairs Minister Lung Ying-tai (龍應台) said on Sunday during her first visit to a rural area since taking the position.
Lung's tour took her to Cieding District (茄萣) in Greater Kaohsiung where she lived for nine years when she was growing up.
During her visit, Lung toured local temples and other attractions accompanied by old acquaintances and village representatives.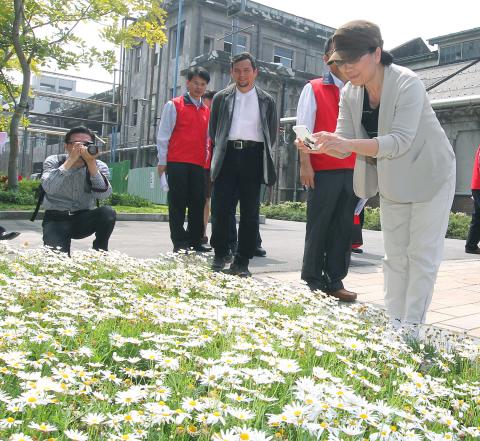 Council for Cultural Affairs Minister Lung Ying-tai, right, takes a photograph of flowers with her smartphone during a visit to the Taichung Cultural and Creative Industries Park yesterday.
Photo: CNA
The trip is part of Lung's plan to visit rural areas throughout the nation so she can witness the gap between urban and rural areas in cultural development.
She has publicly vowed to be a minister who frequently visits small towns and villages.
While in Cieding, Lung visited a site where a large boat is being built for use in a local boat-launch and burning ritual to pray for the region's safety.
The festival, scheduled to take place on May 20, is held once every eight to 12 years in the fishing village. At this year's festival, villagers will hold a procession of gods before sending the deities on a voyage to sea in a symbolic invitation for them to take away any diseases or plagues.
Lung recalled participating in the ritual the year she moved to Cieding at the age of 14 and advised the local government to register the event as an intangible cultural heritage with the council.
She also called on the public to recognize and appreciate how small villages express the arts and culture.
"If you view Cieding based on a Western standard or the Taipei standard, you would say there are no theaters, music halls, study groups or performances here," Lung said. "However, if you view the culture that has been developed by its temples, you would see plenty of fine arts, crafts and community bonding."
She asked local officials to help Cieding apply for grants with the council to preserve the communities' temple culture.
The minister also stopped by the house of late doctor Lin Yuan-chuan (林淵泉) to pay tribute to his family.
Lung said her family was poor when she was young and could not afford to see a doctor, and since Lin knew of their economic woes, he never asked for any payment for medical treatment.
No matter where she was later in life — New York, Frankfurt, Germany, or other places around the world — Lung said: "The example that the village doctor set has always lived on in my heart."
Other stops on Lung's tour included the Taichung Cultural and Creative Industries Park and the National Taiwan Museum of Fine Arts.
Lung, a celebrated author, became council minister following a Cabinet reshuffle after President Ma Ying-jeou (馬英九) was re-elected in January.
Comments will be moderated. Keep comments relevant to the article. Remarks containing abusive and obscene language, personal attacks of any kind or promotion will be removed and the user banned. Final decision will be at the discretion of the Taipei Times.