Avian flu has not spread: Council of Agriculture
'ISOLATED CASES': There were fears H5N2 had spread after two new cases in Tainan, while a new measure to conduct spot checks on meat was due to begin today
Outbreaks of avian influenza have not spread from farms in central and southern Taiwan, and current cases are isolated ones, a Council of Agriculture (COA) official said yesterday.
Council of Agriculture Deputy Minister Hu Hsing-hua (胡興華) made the remarks in response to questions as to whether avian flu has spread after new outbreaks were reported at two chicken farms in Greater Tainan.
Hu said that "we hope to step up our guard against the outbreak and take the initiative to conduct monitoring."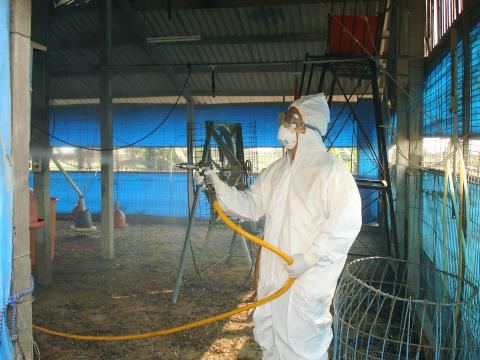 A worker from the Animal Health Inspection and Protection Office in Greater Tainan yesterday sterilizes a chicken farm in Shanhua District due to concerns over an outbreak of avian influenza.
Photo: Wang Chun-chung, Taipei Times
The council has imposed movement controls on the two latest chicken farms, located in Guantian (官田) and Shanhua (善化) districts. Chickens slaughtered there have been frozen and the farms disinfected. Other chicken farms within a 3km radius of the farms are being inspected.
Since the council confirmed the first outbreak of highly pathogenic H5N2 avian influenza on March 3, chicken farms in Changhua and Nantou counties, as well as in Greater Tainan, have reported avian flu outbreaks.
In a related development, chicken farmers said a new measure to conduct spot checks on meat around the country starting today would not affect the price of chicken products.
However, the Poultry Association of the Republic of China said the checks should be put off to avoid more uneasiness among consumers.
The association said that egg output has fallen off recently due to unsettled weather. It added that the output of chickens raised for meat was also low, cushioning the impact of the outbreak.
The association said that normal chicken output is between 3.9 million and 4 million birds per week, but at present the output is 3.75 million.
It said the smaller supply meant that fluctuations in chicken prices would not be dramatic.
The Department of Health has announced that it would conduct spot checks on 1,000 beef, pork, duck and goose samples around the country from today and would publish the names of anyone found supplying problematic products.
The products to be tested will include 500 beef samples, 400 pork samples and 100 duck and goose samples.
Comments will be moderated. Keep comments relevant to the article. Remarks containing abusive and obscene language, personal attacks of any kind or promotion will be removed and the user banned. Final decision will be at the discretion of the Taipei Times.