DPP Taipei City councilor bungee jumps to honor bet
Democratic Progressive Party (DPP) Taipei City Councilor Wang Shih-cheng (王世堅) leapt from a 30m high platform in Japan earlier this month as he carried out his promise to bungee jump after losing a bet over who would win the Jan. 14 presidential election.
During an interview with a local radio talk show last year, Wang said he would do a bungee jump if then-DPP chairperson Tsai Ing-wen (蔡英文) lost the Jan. 14 presidential election to President Ma Ying-jeou (馬英九).
On March 6, Wang performed the bungee jump on the platform at a farm in Chiba County, Japan, and posted the video clip on his Facebook page on Monday to prove he kept his promise.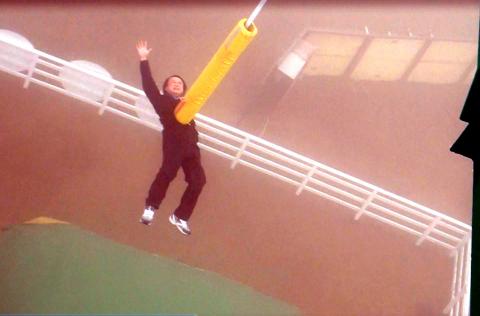 Democratic Progressive Party (DPP) Taipei City Councilor Wang Shih-cheng bungee jumps in Chiba Prefecture, Japan, on March 6, as he had promised to do if DPP candidate Tsai Ing-wen was defeated in January's presidential election.
Photo: Liu Jung, Taipei Times, from on-line video
"I am a politician who keeps my promises, and I want to set an example for other politicians that we are responsible for what we say," he said.
Wang said he had planned to carry out his promise by leaping from a bridge in New Taipei City (新北市), but the city government turned down his application due to public security concerns, and he later decided to do the jump in Japan.
In the video clip, Wang shouted: "A promise is a promise," before leaping from the platform in heavy rain.
"It was so cold that day, and I felt dizzy during the fall … Just like me, the DPP also experienced a terrible fall to the ground, but we will eventually bounce back," he said.
The bungee jump was not the first promise Wang carried out after a bet. In 2008, as a DPP legislator, Wang dared he would jump into the sea at Chienshuiwan (淺水灣) if all eight of the Chinese Nationalist Party's (KMT) legislative candidates were elected in Taipei constituencies.
Riding a jet ski about 100m offshore, Wang plunged into the waters, although he was ridiculed by some netizens who said that it looked as if he fell into the water rather than jumped.
Wang on Monday said he would continue to make similar bets that the DPP would obtain election victories.
Comments will be moderated. Keep comments relevant to the article. Remarks containing abusive and obscene language, personal attacks of any kind or promotion will be removed and the user banned. Final decision will be at the discretion of the Taipei Times.