Taipower employee fights for medical cost coverage
LAWYER UP: While the 65-year-old says he has proof his cancer resulted from exposure to radiation, the firm says Lee's illness does not qualify as an 'occupational disease'
A retired Taiwan Power Co (Taipower) employee yesterday said the company was refusing to cover his medical expenses despite medical experts and the Council of Labor Affairs saying that his illness was caused by working at the Jinshan Nuclear Power Plant in Shihmen District (石門), New Taipei City (新北市).
"I speak before you today, but my days are numbered," Lee Kuei-lin (李桂林), 65, said in a weak voice.
Lee said after he retired in 2007, he was diagnosed with blood dyscrasia, a condition used to describe diseased blood, and cancer of the larynx.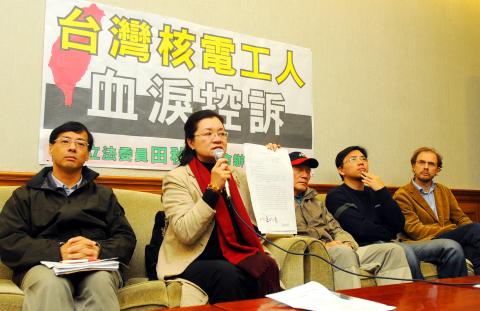 Democratic Progressive Party Legislator Tien Chiu-chin, second left, shows an official letter during a press conference at the legislature yesterday.
Photo: Wang Yi-sung, Taipei Times
"I was exposed to high-level non-ionizing radiation in a short period of time in 1979, which can cause blood dyscrasia," he said. "Results of medical examinations at National Taiwan University Hospital, National Cheng Kung University Hospital and Taipei Veterans General Hospital have proved that there is a strong correlation between my blood dyscrasia and my laryngeal cancer. They all produced papers saying that these are occupational diseases. A report from the council also said so, but Taipower refuses to recognize the results."
Lee filed a lawsuit against his former employer three years ago. His plight has attracted the attention of Democratic Progressive Party Legislator Tien Chiu-chin (田秋堇), labor rights groups and anti-nuclear advocates, who held a press conference yesterday accusing Taipower of turning its back on one of its employees.
Liang Tien-jui (梁天瑞), director of Taipower's department of nuclear generation, said Lee suffered from an abnormally low platelet count, known as idiopathic thrombocytopenic purpura, whose cause is unknown.
Lee's low-platelet problem was confirmed by a physical examination paid for by Taipower in April 1970, six months before the plant began operations.
Liang said a medical examination conducted in 2008 failed to follow the guidelines established by the council for determining occupational diseases caused by non-ionizing radiation. Liang also said the doctors did not take into account the medical history of the patient and several crucial statistics.
While Lee said he has medical certificates proving that his cancer was indeed an occupational disease, Liang said the council's list of occupational diseases says laryngeal cancer is caused by asbestos, not by the non-ionizing radiation to which Lee was exposed.
"The council said in its report that the disease was 'acquired when the person performed his duty,' which is very different from the definition of an 'occupational disease,'" Liang added.
According to the council, an occupational disease in one in which the job is determined to contribute more than 50 percent to the cause of the disease.
If the disease is said to be acquired during the execution of a worker's duties, it means that while there is no irrefutable evidence showing that the disease was directly caused by the job, past cases have indicated that the worker could be in the high-risk group and that the job might be cause of the disease.
"We will present all the evidence in court," Liang said.
Comments will be moderated. Keep comments relevant to the article. Remarks containing abusive and obscene language, personal attacks of any kind or promotion will be removed and the user banned. Final decision will be at the discretion of the Taipei Times.