Medic makes 'house calls' to treat sex workers
A medical technologist at the Renai District Public Health Center in Keelung has been visiting red-light districts to encourage sex workers to undergo routine blood tests to screen for sexually transmitted infections.
In broad daylight, carrying a heavy bag laden with clean needles, alcohol swabs and condoms, Liu Yung-sung (劉勇松) tramps toward the most high-profile red-light district in Keelung — "Thi Gi Lo" (鐵支路), which means "areas along the railroads" in Hoklo (also known as Taiwanese) — with his bureau staff identification card hanging around the neck.
For about the past three years, Liu has shouldered one of the most formidable tasks among public health workers, reaching out to sex workers to have them undergo regular blood testing to check for sexually transmitted infections, such as HIV/AIDS and syphilis.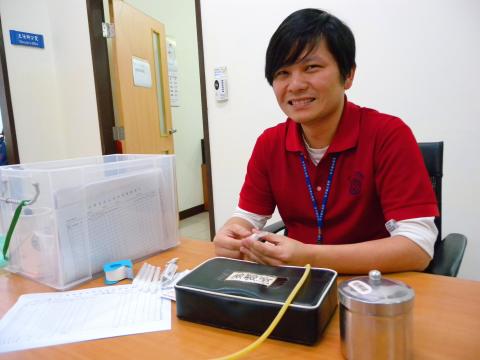 Liu Yung-sung, a medical technologist at the Renai District Public Health Center in Keelung, collates for samples on Feb. 2. Liu has been visiting red-light districts to encourage sex workers to conduct routine blood tests to screen for sexually transmitted infections.
Photo: Wu Liang-yi, Taipei Times
Liu started performing blood tests in 2004 in "eight major businesses" for sex workers in Keelung, which include nightclubs, KTVs and bars. More recently, he narrowed his main targets to street workers.
"Breaking through the Thi Gi Lo circle was not easy," said Liu, a former medical examiner at the then-Keelung Naval Hospital.
When he entered Thi Gi Lo the first time, Liu said he was mistaken for a client and shooed away by sex workers after he made clear his intention of promoting the importance of blood testing.
He said some sex workers gave him the cold shoulder, while others turned down his offer by saying they were in good physical condition and thus did not require blood tests.
Because of the rejections, as well as his exposure to the work conditions of sex workers, Liu said he was "completely dispirited" at one point.
Despite the constant frustration, Liu continued his work in those areas.
Most sex workers are disinclined to undergo blood tests at a public space, such as a health center, as they dread being pointed at or judged by others, Liu said.
Because of this, he began providing "home services" for sex workers.
Liu said he indicates the reason for his visits to the brothel doormen to obtain permission to enter. He then only carries out blood tests on sex workers who volunteer to have them done.
Liu added that no detailed personal information from the examinees are required, only nicknames and telephone numbers to notify them of the test results.
Through this approach, Liu has been able to win the trust of sex workers, who in turn encourage others to get tested.
Of the many experiences he has had administering blood tests in Thi Gi Lo, some have had a lasting impression.
"On one occasion, as I was drawing blood from Miss A, the groaning sounds from other 'on-duty' sex workers spread through the room and got louder and louder," Liu said. "I could only pretend that nothing was going on and continued my work, as it was obvious the noises didn't affect Miss A at all."
Recalling another incident, Liu said an attractive sex worker once pulled him into a locked room, and he panicked at what might happen next. It turned out the young female only wanted to figure out Liu's general views of sex workers, he said. He told her that he saw nothing wrong with the profession, as everyone has to make a living.
Liu said another memorable incident was when he rushed to hide during a police raid at a brothel.
Last year, a major crackdown on the sex industry was launched in some parts of Taiwan, with police in Keelung occasionally standing guard around Thi Gi Lo, Liu said.
"One time, several police -officers suddenly arrived outside a brothel where I happened to be carrying out blood tests for some sex workers. After [people inside the building] spotted police officers standing outside via surveillance cameras, I was asked to hide in a cramped room until the police had left — one hour later," he said.
Although his presence could have been verified as work-related by his staff identification card had the police seen him, Liu said he still followed the sex workers' instructions to hide to avoid complications.
Asked how his family regards his work, Liu, who is married and has a son, said he always acts prudently when performing blood tests in red-light districts.
"I am fulfilling my duties and responsibilities in the field of public health. This not only benefits me, but I am making a contribution to society," he said.
Translated by Stacy Hsu, staff writer
Comments will be moderated. Keep comments relevant to the article. Remarks containing abusive and obscene language, personal attacks of any kind or promotion will be removed and the user banned. Final decision will be at the discretion of the Taipei Times.