Fans flock to Fong Fei-fei exhibition
FOND FAREWELL: Some fans started lining up before the doors to the exhibition of memorabilia were opened, with many unable to hold back their tears
An exhibition featuring memorabilia of the late Taiwanese pop diva Fong Fei-fei (鳳飛飛) opened in her home town of Dasi (大溪) in Taoyuan County yesterday, attracting many of her diehard fans despite the cloudy and wet weather.
Many of her fans started lining up in front of the venue at Wuteh Hall before the doors opened at 9am. A woman from Taipei City, surnamed Wei (魏), was first in line and had stood in line since 7am.
When speaking of Fong and her songs, Wei couldn't stop crying, nor could many other fans as they viewed the singer's albums, photos, videos, costumes, hats and other memorabilia on display.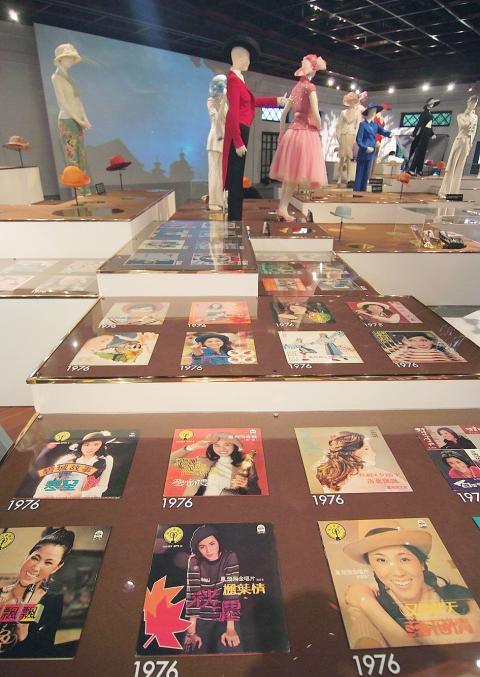 Seventy-two covers of recordings by pop diva Fong Fei-fei, who passed away last month, are on display at an exhibition in Taoyuan County's Dasi Township.
Photo: CNA
Fong, one of Taiwan's most popular singing sensations in the 1970s and 1980s, died of lung cancer in Hong Kong on Jan. 3 at the age of 58. However, the news was only made public by her lawyer on Feb. 13, because the low-profile star did not want her death to disrupt her fans' celebration of the Lunar New Year last month.
The singer, born Lin Chiu-luan (林秋鸞) in Dasi, Taoyuan County, produced more than 80 albums and held numerous sold-out concerts at home and abroad during her decades-long career. She also starred in films and hosted TV variety shows.
The exhibition, titled "When applause sounds — paying tribute to Fong Fei-fei," was organized by the Taoyaun County Government with the assistance of Dada Entertainment Co; Fong's son, Zhao Wen Lin; her assistant, Chou Yung-chun (周詠淳) and a number of fans.
The exhibition will run through April 8.
Comments will be moderated. Keep comments relevant to the article. Remarks containing abusive and obscene language, personal attacks of any kind or promotion will be removed and the user banned. Final decision will be at the discretion of the Taipei Times.