Residents protest land use plans for Tucheng
Members of the Ma Tsu Tien community in Tucheng District (土城), New Taipei City (新北市), yesterday called on the government to drop a plan to establish a special district for the specific use of funeral service businesses.
Accompanied by Democratic Progressive Party Legislator Tien Chiu-chin (田秋堇), the residents told a press conference that the district, which is biologically diverse with a rich natural landscape, is worthy of conservation.
With the New Taipei City Government establishing a special district on the border between Sansia (三峽) and Tucheng for funeral service businesses, Lee Jung-tai (李榮台), a representative of the group, called it "a plan to destroy the community."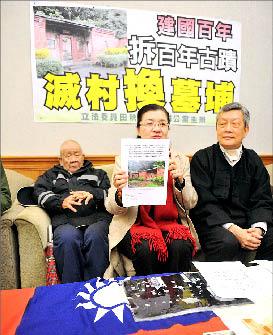 Democratic Progressive Party Legislator Tien Chiu-chin, center, and members of the Ma Tsu Tien community in the Tucheng District of New Taipei City talk at a press conference at the legislature yesterday.
Photo: CNA
"The land use project that will extend to the Ma Tsu Tien community has serious flaws. It will ruin the community mainly centered around Pu-an Temple" built during the Japanese colonial period in 1924, Lee said.
A temple like Pu-an Temple, rich in art, culture and religion and a tourist attraction, is a place of historical interest and should be cherished, not destroyed, Chinese Folk Art Foundation chairman Lin Ming-te (林明德) said.
"I have been to the temple, which impressed me so much. I hope that it will be preserved as a historical site. Protecting our homeland is our duty," Republic of China Sculpture Association president Lee Liang (李亮) said.
Pu-an Temple is a main attraction of the Tung blossom -flowers sightseeing paths at Tucheng, which inspired the Hakka Tung Blossom Festival, one of the country's most renowned floral festivals for its picturesque displays of Tung flower blossoms.
"I can't imagine this kind of thing would happen if the Pu-an Temple was in Yilan County," said Tien, whose husband, Liu Shou-cheng (劉守成), was a former -commissioner of the county.
The Yilan County Government has spent NT$70 million (US$2.31million) restoring an official residence built during the Japanese colonial period.
"The Yilan County Government got its money's worth because the site has become a must-see destination for Japanese tourists," Tien said.
Comments will be moderated. Keep comments relevant to the article. Remarks containing abusive and obscene language, personal attacks of any kind or promotion will be removed and the user banned. Final decision will be at the discretion of the Taipei Times.