2012 ELECTIONS: NSB head raises concerns over usage of firecrackers
As the presidential candidates canvass for votes on the streets by traveling in open-topped jeeps, National Security Bureau (NSB) Director Tsai Der-sheng (蔡得勝) yesterday said he has asked police to persuade people to only set off firecrackers before and after the candidates arrive to avoid startling them.
Tsai's comments came after Democratic Progressive Party (DPP) presidential candidate Tsai Ing-wen (蔡英文) was startled by supporters' fire-crackers when canvassing in Yunlin on Saturday.
Setting off firecrackers is not illegal, Tsai Der-sheng said, and as such police would only resort to persuasion.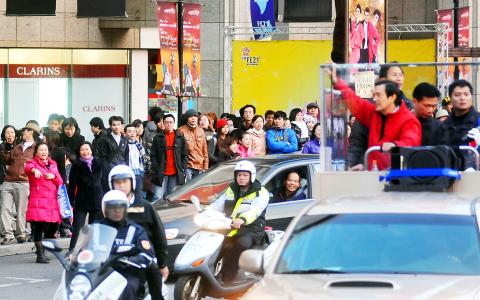 President Ma Ying-jeou, front left, waves as he canvasses for votes in Taoyuan -yesterday while standing in an open-topped jeep.
Photo: CNA
Tsai Der-sheng said the sound of firecrackers could cover the sound of a gunshot and interfere with the security of the candidates, adding that it would be best if firecrackers are not set off when the presidential candidates are present.
Tsai Der-sheng, who accompanied President Ma Ying-jeou (馬英九) on a canvassing activity in Taoyuan County yesterday afternoon, said the bureau had dispatched four police motorcycles to follow the president's fleet.
The security measures for the motorcade included three panes of bulletproof glass at the rear of the president's car that were provided by the NSB.
In other news, New Taipei City (新北市) Government officials said late on Saturday that two men were barred from approaching Ma during a Christmas Eve gala in the city after they were discovered to be carrying BB guns.
One of the men was stopped from entering a control area where Ma was arriving for the charity gala after he was discovered to be carrying a BB gun and a bottle of BB pellets in his bag, officials said.
The other man was stopped by security guards when trying to enter the same control area near citizens square in Banqiao District (板橋) minutes later. He was also found to be carrying a BB gun and a bottle of pellets, officials said.
At the entrance to another control area, a mother and child were barred from entering after the boy was found to be carrying a toy gun.
The gala drew about 80,000 people, with about 200 police and security personnel standing by to protect Ma, who is seeking re-election on Jan. 14.
Comments will be moderated. Keep comments relevant to the article. Remarks containing abusive and obscene language, personal attacks of any kind or promotion will be removed and the user banned. Final decision will be at the discretion of the Taipei Times.