Calendar gives new view of oldest trails
BIRD'S EYE VIEW: Satellite images of Taiwan's old trails point out the difference between those made by the Aborigines and those made by Japanese colonial rulers
Enthusiasts of historical trails can view some of the nation's best trails as seen from space in a calendar of satellite images published by National Central University (NCU) in cooperation with Academia Sinica.
The two institutions first worked together to publish a calendar of satellite images of the plains along the west coast, but the project was expanded to cover historical trails in northern, eastern and southern parts of the country.
Chang Chung-pai (張中白), assistant professor at NCU's center for space and remote sensing research, said the calendar was produced by combining satellite imaging technology and 3D simulation.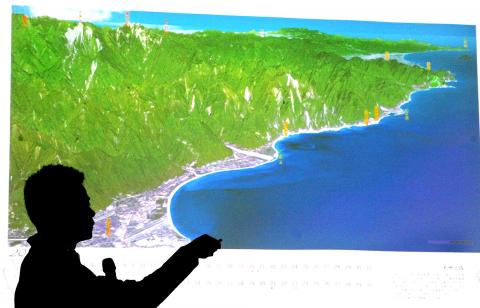 A man gives a presentation of satellite imaging and 3D simulation technology jointly developed by the Academia Sinica and National Central University in New Taipei City yesterday.
Photo: CNA
Each map was pieced together using photos taken from a satellite, he said, adding that researchers then identified the exact locations of the historical trails using geographical information.
"We added sunsets or snow on the map to make the images look more authentic," Chang said. "Those who see the calendar can also learn historical facts about the Tamching Highway, Beiyi Highway and Suhua Highway, because part of those highways used to be historical trails."
"They can also find the Alangyi Trail on the coastline of Taitung, which at one point was an object of controversy because of a debate between environmental activists and highway developers," Chang said.
Academia Sinica researcher Fan I-chun (范毅軍) said the images showed that the trails created by Aborigines were very different from those made during the 50 years of Japanese colonial rule.
"Aborigines needed to hunt and move quickly and required good views, so the trails they made were on steep slopes and were difficult to walk on," Fan said.
"The Japanese needed the trails to transport lumber and artillery, so their trails were built on meandering yet level ground," he said.
Most of the historical trails have become part of the nation's highways, Fan said, adding that Alanyi was one of few trails that had been completely preserved.
Comments will be moderated. Keep comments relevant to the article. Remarks containing abusive and obscene language, personal attacks of any kind or promotion will be removed and the user banned. Final decision will be at the discretion of the Taipei Times.