2012 ELECTIONS: Tsai vows more flood prevention
CAMPAIGN TRAIL: Tsai Ing-wen heard complaints from Yunlin County officials that lack of funding has hurt their efforts to boost flood prevention and facility maintenance
If elected next month, a Democratic Progressive Party (DPP) administration would pick up where the previous DPP government left off in addressing flood prevention in southwestern coastal areas by injecting more public funding and resources, DPP presidential candidate Tsai Ing-wen (蔡英文) said in Yunlin County yesterday.
The impact of perennial flooding in lowland areas has been a primary reason behind land subsidence, population outflow and stagnant economies in the region, Tsai said.
The former DPP administration had allocated a budget of NT$80 billion (US$2.65 billion) on flood prevention, which was later increased to NT$116 billion by President Ma Ying-jeou's (馬英九) administration, but that was not enough, Tsai said in a campaign stop at the Bozihliao Water Pumping Station in Sihhu Township (四湖), Yunlin County.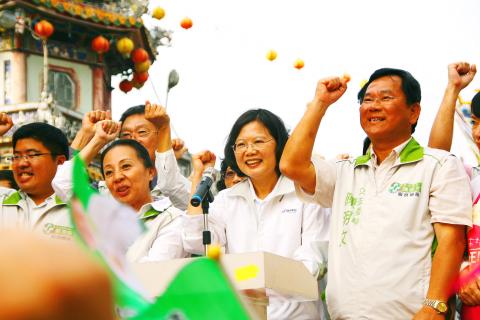 Democratic Progressive Party (DPP) presidential candidate Tsai Ing-wen, center, cheers with Chiayi County Commissioner Helen Chang, second left, and DPP legislative candidates Cheng Ming-wen, right, and Tsai Yi-yu, left, at the Fengtiangong Mazu temple in Hsinkang Township, Chiayi County yesterday.
Photo: Lin Yi-chang, Taipei Times
The fundamental difficulty for the Yunlin County Government was the lack of funding for flood prevention, not lack of planning, because the government had drawn up a three-phase plan from 2006 to 2013, Yunlin County Commissioner Su Chih-fen (蘇治芬) and county Water Resources Department Director-General Lin Jung-chuan (林榮川) said in their briefing to Tsai.
Yunlin, the most flood-impacted county in the country, only received NT$9.5 billion, or 8.2 percent, of the total funding from the central government, Su said, adding that her government also lacked a budget for facility and equipment maintenance.
Tsai saw the flood concerns as the root of the problem for Yunlin, one of the poorest counties in Taiwan, adding that more resources and funding was essential to solving the problem once and for all.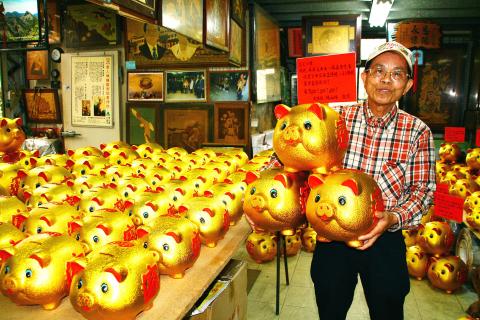 Carpenter Lin Shan-lin, standing in his workshop in Chiayi County yesterday, shows off 300 piggy banks he has made and will donate to Democratic Progressive Party presidential candidate Tsai Ing-wen's campaign headquarters.
Photo: Lin Yi-chang, Taipei Times
"Due to perennial flooding and a lack of government strategy, local economic activity has been slow, which has led to unemployment, population outflow and the aging of the community," Tsai said.
The solution should be — and will be — comprehensive, Tsai said, as she planned to conduct a complete review of flood prevention projects as well as local industry so more activities outside of the sectors of aquaculture, fishing and agriculture could be created.
That Yunlin was able to sustain hard hits by typhoons Morakot and Fanapi without severe flooding showed that preliminary efforts in flood prevention were effective.
"Now is the time for the central government to take responsibility by allocating more money and effort for the national flood prevention program," Tsai said.
Speaking at a campaign stop at Singang Township (新港), Chiayi County, Tsai said she "did not do Ma wrong" in saying the national debt had increased by NT$1.3 trillion during Ma's term in office.
Yesterday Ma said the increased debt was an investment on infrastructure and national development, which could create a lot more economic output, rather than saddling future generations with debt.
The DPP said Ma, who pledged in the 2008 campaign that he would not raise the debt, became the biggest spending president in history with a record increase in debt during his term.
The average annual national deficit of NT$400 billion under Ma far exceeded the annual average of NT$180 billion during the DPP administration between 2000 and 2008, the DPP said.
Comments will be moderated. Keep comments relevant to the article. Remarks containing abusive and obscene language, personal attacks of any kind or promotion will be removed and the user banned. Final decision will be at the discretion of the Taipei Times.