Web site for Taiwanese food launched
The Government Information Office yesterday launched a Web site to promote the country's rich and diverse culinary culture.
Named "Food Culture in Taiwan" and available in Chinese, English, Japanese, French and Spanish, the site provides gift ideas as well as information about dishes throughout the country, including Taiwanese seafood, Hakka cuisine, Chinese food, Aboriginal dishes, night market food, drinks and desserts.
Dressed up as a chef, Government Information Office Minister Philip Yang (楊永明) said the Web site was developed to introduce Taiwan to the international community through the nation's wide variety of delicacies and the diverse cultural heritage the dishes reflect.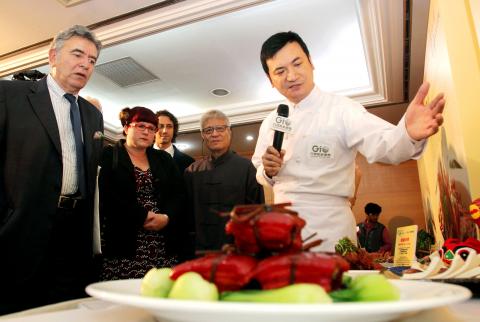 Government Information Office (GIO) Minister Philip Yang, right, gestures at a press conference yesterday in which he announced the GIO's development of a multilingual Web site for introducing Taiwanese cuisine.
Photo: CNA
Jennifer Levin, a literature instructor at Clark Honors College, University of Oregon, praised the site, saying it was providing "a real service to the world."
"I think your Web site is going to be a valuable tool for us, because we are able to be educated in so many different ways. It's a wonderful resource. I did a little bit [of] research before I came [to Taiwan]. It's very difficult to find information on Taiwanese cuisine," Levin said.
Levin was in Taiwan as part of a group of nine international restaurant critiques, including Jean-Louis Galesne of France and Saul Cepeda of Spain, on a tour of the country at the invitation of the information office.
The group had gone to some famous restaurants and night markets in Taipei in recent days with Yang and local food critics.
The site can be visited at: http://taiwanfoodculture.net.
Comments will be moderated. Keep comments relevant to the article. Remarks containing abusive and obscene language, personal attacks of any kind or promotion will be removed and the user banned. Final decision will be at the discretion of the Taipei Times.