Selina Jen will not serve shark fin at wedding
Animal rights advocacy groups yesterday praised pop star Selina Jen (任家萱) for her decision to not serve shark fin soup at her wedding banquet out of concern for ecological conservation.
A member of the popular girl band S.H.E., Selina has been in the spotlight since she was badly burned on Oct. 22 last year during the filming of an explosion for a TV drama in Shanghai. The entertainer has undergone three skin grafts. Selina is scheduled to marry lawyer Chang Cheng-chung (張承中) today, on her birthday.
"We are glad to hear the decision from Jen that there will be no shark fin dish at her wedding banquet, and that it would be replaced with bamboo mushroom," Environmental and Animal Society of Taiwan director Chen Yu-min (陳玉敏) said. "Her effort for ecological conservation has set a very good example for her fans, and I hope more celebrities will do the same to raise public awareness of the issue."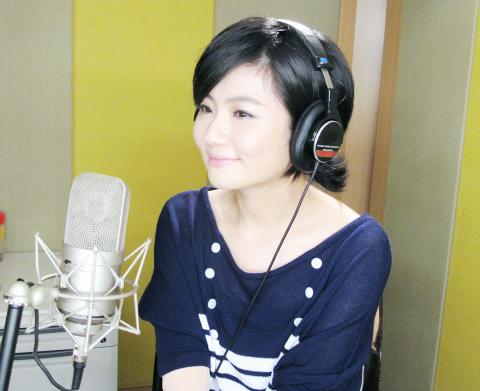 Selina Jen is seen in a studio recording a song to celebrate her 30th birthday, which is today.
Photo provided courtesy of HIM records
Chen said that on average, 26 million sharks are killed annually for their fins around the world because shark fin is traditionally considered a delicacy at banquets in Taiwan and China, as well as among Taiwanese and Chinese communities abroad.
According to research conducted by the society earlier this year, between 920,000 and 3.8 million sharks are killed for their fins for wedding banquets in Taiwan's 71 hotels classified by the Tourism Bureau as "international tourism hotels," she said.
"Sharks reproduce slowly, and for some shark species, a female shark gives birth to only one or two offspring every one to three years, and it takes a long time for a baby shark to grow into an adult shark," Chen said. "Sharks are the top predators in their ecosystem, so when sharks disappear in large numbers, it's going to cause some dramatic changes in their environment."
In a written statement, Humane Society International representative Iris Ho (何燕青) said she was also glad to hear Jen's decision.
"The pop band S.H.E. is popular in ethnic Chinese [and Taiwanese] communities around the world, especially among young people, and I'm happy that Selina, one of its members, could set such an example," Ho said in the statement. "I hope it will inspire more overseas Chinese to take concrete steps to help protect the ocean's ecology."
Ahead of her wedding today, Selina on Friday unveiled a Mandarin solo single titled Those Who Love Me.
"Thank you, those who love me ... For what you have done for me, I can stand firm and be strong. Reborn for love," the 29-year-old star sang in a video posted on YouTube.
Additional reporting by CNA
Comments will be moderated. Keep comments relevant to the article. Remarks containing abusive and obscene language, personal attacks of any kind or promotion will be removed and the user banned. Final decision will be at the discretion of the Taipei Times.