2012 ELECTIONS: DPP advises voters to stay calm after campaign flags burn
Democracy should not be without class, and voters should remain rational and calm, Democratic Progressive Party (DPP) campaign office executive Chen Shu-hua (陳淑華) said yesterday in response to a flag-burning incident in front of the party's campaign headquarters in Taichung on Friday.
The Taichung City No. 6 Police Precinct received a call from DPP presidential candidate Tsai Ing-wen's (蔡英文) Taichung campaign headquarters on Friday saying Tsai's campaign flags in front of the headquarters had been set alight.
When security guards at the headquarters went to have a look, they were just in time to see a woman leaving the scene on a scooter.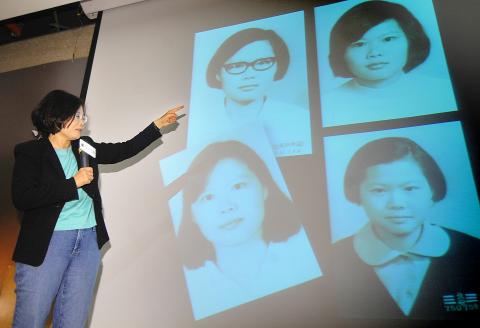 Democratic Progressive Party Chairperson Tsai Ing-wen presents a slide show of some of her childhood photographs during a promotional event for her new autobiography in Taipei yesterday.
Photo: Fang Pin-chao, Taipei Times
After viewing security camera footage, police said a middle-aged woman with long hair was suspected of setting the flags alight with a lighter at about 2:52am on Friday.
Further investigation of security camera footage from nearby streets pointed to a woman surnamed Ho (何) as the suspected culprit.
Police arrested Ho yesterday morning and she was quoted as saying that she burned the flags because she had been drinking and felt depressed.
Ho said it was purely a personal act and did not have any political intention. She said she deeply regretted her actions.
Because the Taichung campaign headquarters is staging a rally tomorrow, police said security had been stepped up in the area.
Security patrols around the headquarters have been implemented to prevent a similar attack on the building.
Chen said it was not the first time that Tsai's campaign flags had been burned or destroyed, adding that flags placed outside the homes of DPP supporters had also reportedly been sabotaged and disposed of.
"Taiwan's democracy is the mutual accomplishment of all Taiwanese, but democracy must also have class," Chen said, adding that though the support ratings for both the DPP's Tsai and President Ma Ying-jeou (馬英九) of the Chinese Nationalist Party (KMT) are neck-and-neck, voters should still keep a level head.
Comments will be moderated. Keep comments relevant to the article. Remarks containing abusive and obscene language, personal attacks of any kind or promotion will be removed and the user banned. Final decision will be at the discretion of the Taipei Times.