Ministry to pay executed airman's family NT$103m
PRICELESS: The mother of the wrongly executed serviceman said no sum of money could bring him back and all she wanted was to clear his name
The Ministry of National Defense said yesterday it would pay NT$103.18 million (US$3.4 million) in compensation to the family of an air force serviceman who was wrongly executed 14 years ago for the rape and murder of a young girl.
The sum takes into consideration Chiang Kuo-ching's (江國慶) detention of 314 days and his execution for a rape and murder he did not commit, the ministry said.
The compensation was calculated based on Ministry of the Interior statistics that show an average life expectancy of 77 years in Taiwan, it added.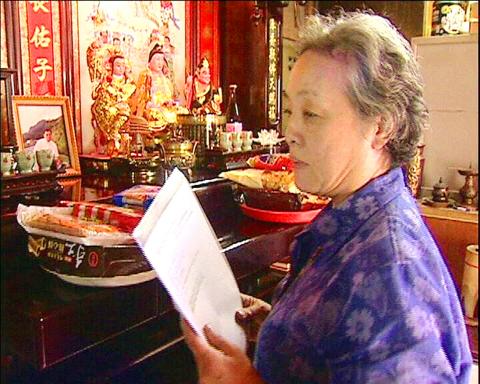 Wang Tsai-lien, the mother of wrongly executed air force serviceman Chiang Kuo-ching, speaks at her home in New Taipei City yesterday.
Photo: Huang Li-hsiang, Taipei Times
The compensation sum will be finalized if no objections are raised by the Supreme Prosecutors' Office or by Chiang's mother, Wang Tsai-lien (王彩蓮), within 20 days, the ministry said.
In 1996, Chiang was accused of raping and killing a five-year-old girl at the Air Force Combat Command in Taipei. He confessed to air force counterintelligence officers that he had committed the crime and was later convicted and sentenced to death. Chiang was executed in 1977 at the age of 21.
However, in a posthumous retrial of the case last month a military court acquitted Chiang of the charges, ruling that his confession had not been given freely and was not admissible. Furthermore, the evidence presented in the case, such as the suspected murder weapon and a tissue stained with the child's blood, was not conclusive and had not been subject to modern forensic examination, the court ruled.
Once the compensation is settled, the Northern Military District Court will assemble a compensation review committee of legal experts and military court judges to determine whether the military officials involved in the case should be responsible for paying the compensation.
Evidence and documents from the case will be sent to the Supreme Military Court and the Military Supreme Prosecutors' Office to -determine whether the military officials mismanaged the initial investigation and subsequent trials of the case.
Responding to the compensation ruling, Wang yesterday said all the money in the world cannot bring back her son, adding that the ruling had depressed her more than ever, since all she ever wanted was to claim her son's innocence.
Wang said she would continue to press charges against former defense minister Chen Chao-min (陳肇敏), who was chief of the Air Force Combat Command at the time.
Media reports in January said that Chen had violated the Code of Court Martial Procedure by erroneously referring Chiang's case to the counterintelligence agency instead of the judiciary.
Comments will be moderated. Keep comments relevant to the article. Remarks containing abusive and obscene language, personal attacks of any kind or promotion will be removed and the user banned. Final decision will be at the discretion of the Taipei Times.