2012 ELECTIONS: KMT lawmakers divided over raising farm subsidy
'UNACCEPTABLE': Some KMT legislators have vowed to vote against an increase of NT$316 a month, while farmers called for help with collapsing pear prices
A number of Chinese Nationalist Party (KMT) lawmakers from farm-based constituencies yesterday criticized the KMT government's proposal for an increase of NT$316 (US$10.51) in monthly pensions for elderly farmers, saying it was "unacceptable."
The legislature is expected to refer the amendment to the Temporary Statute Regarding the Welfare Pension of Senior Farmers (老年農民福利津貼暫行條例) directly to a second reading at today's session.
The issue of farmers' subsidies has resembled a bidding war ahead of January's presidential and legislative elections.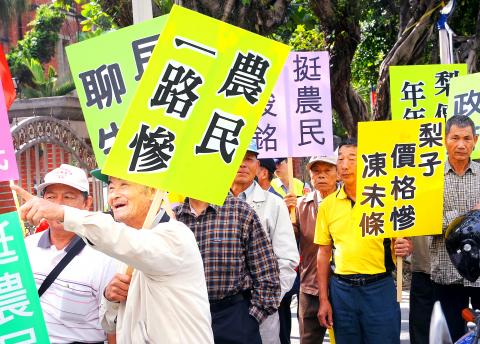 Farmers protest outside the Legislative Yuan in Taipei yesterday, calling on the government to address the collapse of the price of high-stem grafted pears.
Photo: Fang Pin-chao, Taipei Times
While the Democratic Progressive Party caucus has proposed an increase to NT$7,000, some KMT legislators have backed a measure calling for NT$10,000 a month.
The Executive Yuan on Oct. 20 decided on a NT$316 increase. Under its proposal, the monthly subsidy for elderly farmers will increase to NT$6,316 to reflect the 5.27 percent average increase in the consumer price index (CPI) since the last time the subsidy was raised, by NT$1,000, in 2007.
The proposal includes a special clause to exclude wealthy farmers from receiving the subsidy, but this will not affect existing pension recipients
KMT legislators Chung Shao-ho (鍾紹和) Chang Chia-chun (張嘉郡) Wong Chung-chun (翁重鈞) called a press conference yesterday in which they vowed to firmly oppose the proposal.
Chung and Chang, who jointly presented an amendment that suggested a level of NT$10,000 a month, said that they have collected more than 20 signatures, out of a total of 72, to back the proposal.
"The amendment drafted by the Executive Yuan has incurred strong dissatisfaction from farmers, forcing us to step forward to appeal to the government to listen to what we have to say," Chung said.
Chang said that more than 70 percent of farmers were dissatisfied with the government proposal.
"It's really unfair to elderly farmers who have worked so hard in their whole lives to have such a small increase in their subsidy and to be subject to the wealth exclusion clause, especially considering the various tax relief measures for businesses and estate tax reduction for rich people," Chang said.
Suggesting a raise of the subsidy to at least NT$7,500, Wong said he would vote against the amendment in defiance of the party.
In related news, more than 100 farmers who grow high-stem grafted pears yesterday attended a press conference held by DPP Legislator Pan Men-an (潘孟安) to call on the government to address a drop in sales of locally grown pears that has caused prices to fall lower than the cost of their production.
The government allowed 1,530 tonnes of pears to be imported from May to last month, causing sales of locally grown high-stem grafted pears to drop, a representative of the farmers said.
"The price of high-stem grafted pears has collapsed. The production cost was about NT$25 per Taiwanese kilo [0.6kg]. "A" grade pears were sold at at the market at NT$ 19 per Taiwanese kilo, first grade at NT$16 and second grade at NT$13," said Liu Yu-kuei (劉玉貴), a farmer.
Comments will be moderated. Keep comments relevant to the article. Remarks containing abusive and obscene language, personal attacks of any kind or promotion will be removed and the user banned. Final decision will be at the discretion of the Taipei Times.