Ma opens his Kaohsiung headquarters
PROMISES, PROMISES: The president said he would make Kaohsiung 'more prosperous' if he were re-elected, while a former DPP official lauded his economic achievements
Accompanied by former Kao-hsiung County commissioner Yang Chiu-hsing (楊秋興), President Ma Ying-jeou (馬英九) yesterday sought to expand his support base in the south by launching his re-election campaign headquarters in Greater Kaohsiung.
Yang, a former member of the Democratic Progressive Party (DPP) who left the party to run as an independent in the Greater Kaohsiung election in November last year, praised Ma's integrity and his administration's economic performance when he appeared at the campaign rallies for Ma and Chinese Nationalist Party (KMT) Legislator Lin Yi-shih (林益世) — his first time doing so since declaring his support for the KMT's presidential ticket.
"President Ma is a man of integrity and sincerity, and everyone has recognized his administration's efforts to revive the economy and overall development. For the progress of the nation and the future of our children, we should support President Ma's re-election bid," he said at Lin's campaign rally.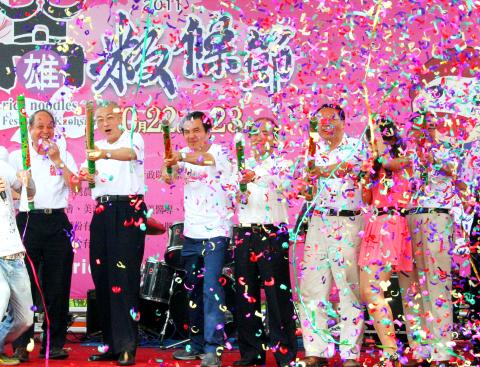 President Ma Ying-jeou, third left, his vice presidential candidate, Wu Den-yih, second left, and Legislative Speaker Wang Jin-pyng, fourth left, participate in the celebrations of the Kaohsiung Rice Noodles Festival in Greater Kaohsiung's Meinong District yesterday.
Photo: CNA
Taking over as chief adviser to Ma's campaign headquarters in Kaohsiung's Fongshan, Kangshan and Chishan areas, Yang joined Ma and his running mate, Premier Wu Den-yih (吳敦義), on stage and vowed to spare no effort in campaigning for the Ma-Wu ticket ahead of the Jan. 14 presidential election.
Ma's re-election campaign team and the KMT are hoping to solicit more support in Kaohsiung through Yang, a seasoned politician in the pan-green stronghold who won more than 400,000 votes in the Greater Kaohsiung mayoral election last year.
Hsiung Kuang-hua (熊光華), director of Ma's campaign headquarters in Greater Kaohsiung, said Yang agreed to campaign for Ma after Legislative Speaker Wang Jin-pyng (王金平) invited him to join the team.
Aside from hoping to attract support from pan-green voters, Ma's camp sought Yang's endorsement to prevent him from siding with People First Party Chairman James Soong (宋楚瑜).
Soong, who is still collecting signatures for a possible presidential run, campaigned for Yang during last year's municipal elections.
Speaking at the opening ceremony of his campaign headquarters in downtown Kaohsiung, Ma cited local developments — including the Kaohsiung Software Park and Kaohsiung Port — and vowed to make the city better if re-elected.
"I will develop Kaohsiung and make the city better and more prosperous," Ma said, while promising to continue efforts to build a clean government and improve the economy.
In the 2008 presidential election, Ma and Vice President Vincent Siew (蕭萬長) received about 23,000 more votes in Kaohsiung City (as it was known before its merger with Kaohsiung County) than their DPP rivals, former premiers Frank Hsieh (謝長廷) and Su Tseng-chang (蘇貞昌).
Ma said although they received less votes than the DPP presidential pair in Kaohsiung County, he and Siew managed to obtain more than 50 percent of the vote in the Greater Kaohsiung area in 2008.
"Let us work harder this time and keep our record of obtaining more than 50 percent of the vote in Kaohsiung," he told supporters and staff at his campaign headquarters.
Comments will be moderated. Keep comments relevant to the article. Remarks containing abusive and obscene language, personal attacks of any kind or promotion will be removed and the user banned. Final decision will be at the discretion of the Taipei Times.