PROFILE: Woman finds new life in farming
Clad in shorts and sandals and wearing a necklace and sunscreen to work in her organic garden, Feng Hsiao-fei (馮小非) does not look like most farmers.
"Why must all farmers be so badly dressed? You can be a farmer and still have your own style," said Feng, who's been a farmer for eight years.
Born and raised in Taipei, Feng went to Nantou County to assist the people there after the Sept. 21 earthquake in 1999. However, although the reconstruction work was gradually completed, she realized that there was a fundamental problem that had not been resolved — agriculture.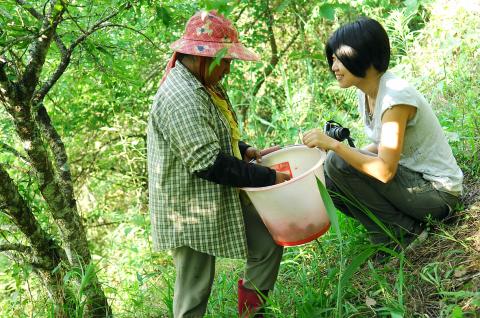 Lin Cheng-hong, director of the Datun Volcano Observatory, yesterday specifies the location of his observatory at the opening ceremony of the new unit, which is located in the Jingshan Nature Center at the Yangmingshan National Park in Taipei.
Photo: Chen Yi-ching, Taipei Times
She persuaded farmers in the area to avoid using pesticides to create a better farming environment and started her own organic orange farm in the Xi Di Yao Agricultural Center in Jhongliao Township (中寮), Nantou County.
Starting as a complete novice, Feng is now completely at ease doing farmwork — including spotting bagworms eating away at fruit trees and shooing away Citrus long-horned beetles. Though some traditional farmers thought she was a fool, that didn't discourage Feng. After eight years of hard work, Jhongliao Township now offers pesticide-free and export-grade produce.
A sociology graduate from Tunghai University, Feng said she noticed that the unequal development in cities and counties had a great impact on agriculture, and since the founding of the Xi Di Yao Agricultural Center, Feng has continued to keep a close eye on the development of the nation's agriculture.
Last month, Feng, along with her friend Chiang Hui-hsien (蔣慧仙) and others, set up a Web site named "Up & Down Stream News & Market" that is devoted to agricultural causes and land issues.
The Web site seeks to link upstream producers with downstream consumers, Feng said, adding that "consumption of agricultural produce from a [nature] friendly environment could change the world."
The Web site has enlisted 70 "co-founders," she said.
It has an independent reporter for the news section, but it is also open to other writers, Feng said.
There are currently 200 registered writers, with 120 — about a third of whom are younger farmers — regularly contributing articles to the site, Feng said.
As for the site's market section, Feng said she gives priority to produce from younger farmers and produce that is harder to market.
Feng said the major problem with the nation's agriculture sector was the production and sales imbalance, which is why Jhongliao residents refused to harvest a surplus production of longan this year.
Feng said the problem is not that the issue cannot be solved, it's because the Council of Agriculture does not want to solve the issue.
For instance, Japan produces different kinds of tangerines and oranges because the Japanese government has made an effort to differentiate the produce of different areas, she said.
Aside from solving the problem of a production imbalance, these farms can also be turned into ecological attractions when the trees bear fruit at different times, she said.
Feng said it was disheartening to see the council overlooking the advantages of Taiwan's locally researched fruit species and letting the industry struggle on its own.
"Taiwan's agriculture industry should be fun and vibrantly alive," she said.
However, with conservative officials heading the council, "how can Taiwan's agriculture sector come alive?" she asked.
Feng said she hoped the Web site could become a voice for the agricultural sector and a medium for farmers to find strength and support.
Translated by Jake Chung, staff writer
Comments will be moderated. Keep comments relevant to the article. Remarks containing abusive and obscene language, personal attacks of any kind or promotion will be removed and the user banned. Final decision will be at the discretion of the Taipei Times.