Hakka Culture Park officially opens in Taipei City
The Taipei Hakka Culture Park yesterday opened to the public following months of construction delays. It will be the permanent home for the annual Taipei Hakka Yimin Festival and other Hakka-related activities.
The 4 hectare Hakka Culture Park, built on the former site of Taipei Children's Museum of Transportation in the Gongguan area of Taipei City, features a central plaza, delonix plaza, tung flower trail, bike station, farming experience area and eco-pond.
The 24th Taipei Yimin Festival was held in conjunction with the opening ceremony, in which over 3,000 members of the Hakka community from 25 Yimin temples around the nation gathered at the park to celebrate the traditional Hakka ritual that runs until tomorrow.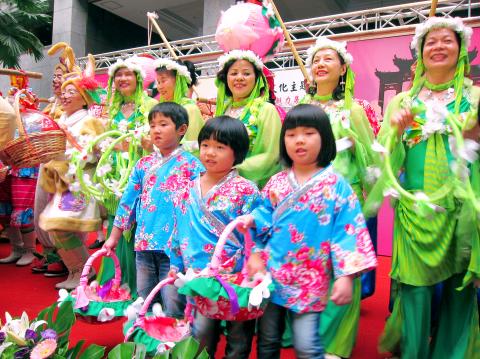 Members of the Hakka community prepare to participate in a parade to celebrate the opening of the Taipei Hakka Culture Park in Taipei yesterday.
Photo: Lin Hsiang-mei, Taipei Times
Taipei Mayor Hau Lung-bin (郝龍斌) headed a delegation of top city officials and councilors that attended the Yimin gods-seating ceremony that officially started the festival.
The festival also featured a "shoulder pole meal-giving" parade that showcased the Hakka spirit of sharing, interactive multimedia exhibits and 12 Hakka Festival shows, demonstrating the vitality of Hakka culture.
The title Yimin (righteous people, 義民) is an honorific title bestowed on the Hakka by the Qing dynasty court for helping government forces to put down an uprising in central Taiwan in the late 1780s.
The uprising resulted in the deaths of more than 200 people in Hsinchu whose bodies were buried at the Sinpu-Fangliao Yimin Temple.
Taipei City Hakka Affairs Commission Chief Secretary Lin Wei-chong (林偉忠) said the park would serve as the main venue for Hakka activities and work to promote Hakka culture.
"Hakka people in Taipei City finally have a home and we will take advantage of the Hakka Culture Park to introduce our culture to more people," he said.
President Ma Ying-jeou (馬英九) was scheduled to preside over a Yimin god worship ceremony this morning at the park, followed by more parades and traditional Hakka performances.
Comments will be moderated. Keep comments relevant to the article. Remarks containing abusive and obscene language, personal attacks of any kind or promotion will be removed and the user banned. Final decision will be at the discretion of the Taipei Times.