King accuses Tsai of avoiding scrutiny
DODGEBALL? King Pu-tsung said that the DPP presidential candidate had given no proof when accusing the KMT of abuses, and urged Su Jia-chyuan to face the public
King Pu-tsiung (金溥聰), executive director of President Ma Ying-jeou's (馬英九) re-election campaign office yesterday accused Democratic Progressive Party (DPP) Chairperson Tsai Ing-wen (蔡英文) of avoiding public scrutiny and said it would be disturbing if she were elected president.
Speaking at a democracy camp for students organized by the campaign team in Greater Kaohsiung, King accused Tsai of dodging issues after making accusations against him and the Chinese Nationalist Party (KMT) of abusing national resources or manipulating polls to boost support for Ma and party candidates.
"When you denied the accusations and asked her for comments, Chairperson Tsai refused to respond and dodged those issues … It's disturbing to hand our nation to a leader who makes accusations without any proof and avoids public examination," he said.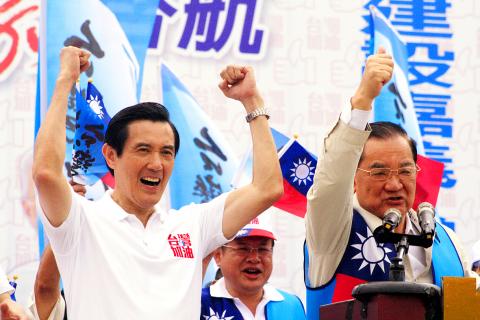 President Ma Ying-jeou raises his arms as former Chinese Nationalist Party (KMT) chairman Lien Chan speaks in support of Ma's re-election campaign at an election rally in Chiayi City yesterday.
Photo: CNA
King also criticized the DPP's handling of recent controversies surrounding the farmhouse of DPP vice presidential candidate Su Jia-chyuan (蘇嘉全), and urged Su to face public examination and clarify the matter, rather than blame the KMT for raising the issue.
Su has been mired in controversy in recent weeks following KMT Legislator Chiu Yi's (邱毅) allegation that Su's farmhouse in Pingtung County, which is registered under his wife's name, violates rules that only farmers can own farmhouses and that 90 percent of the farmland can be used only for farming.
As January's presidential and legislative elections approach, Ma and his running mate, Premier Wu Den-yih (吳敦義), yesterday attended the launch ceremony of the first campaign headquarters in Chiayi City, with former KMT chairman Lien Chan (連戰) attending the event to campaign for the presidential ticket.
Going hand-in-hand with Ma and Wu on the stage, Lien praised the president's integrity and capabilities, calling for people in Chiayi to support Ma.
"Chiayi City is a sacred land of democracy, and Chiayi people should support a man of integrity, and with vision and capabilities to reform the nation," he said in Taiwanese.
Ma and Wu will visit Yilan County today to attend the launch of a campaign headquarters in the county, and return to Taipei later in the afternoon to attend the launch of another campaign headquarters in New Tapei City (新北市).
The KMT is slated to launch Ma and Wu's national campaign headquarters next to the KMT headquarters in Taipei on Oct. 30.
Comments will be moderated. Keep comments relevant to the article. Remarks containing abusive and obscene language, personal attacks of any kind or promotion will be removed and the user banned. Final decision will be at the discretion of the Taipei Times.