Project to cut food waste in Taipei area unveiled
WASTE NOT, WANT NOT: The culinary world must reach a consensus that 'reuses cooking,' such as a more dynamic use of materials, a top chef said
NT$1.7 billion (US$59 million) in food is thrown away in the Taipei area annually, the equivalent of four years of lunches for 82,000 poor children, a restaurant food use survey showed on Thursday.
To remedy the situation, Unilever Food Solutions (UFS) convened representatives from the top 10 restaurant chains and proposed the creation of a "sustainable kitchen," adding that the organization would award certificates for "sustainable kitchens," as well as provide education manuals for chefs.
The UFS is also encouraging restaurants to promote "daily specialties" to lessen situations where kitchens overstock their freezers and cause excess food to be thrown away.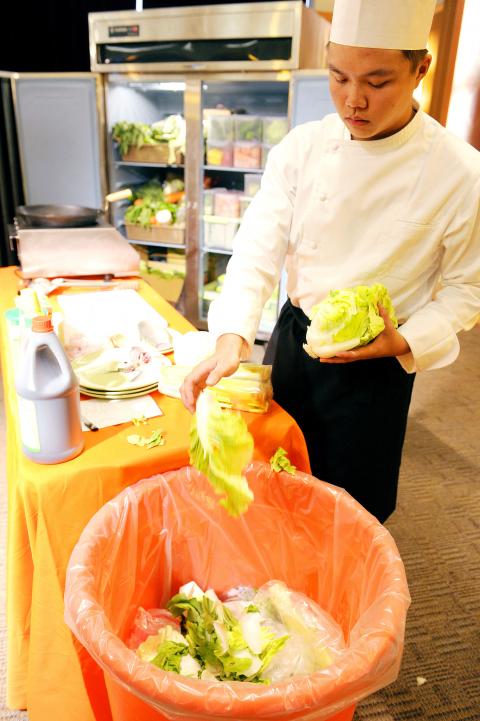 A chef shows how food is wasted in restaurants at an event held by Unilever Food Solutions in Taipei on Thursday.
Photo: George Tsorng, Taipei Times
Chef Cheng Yen-chi (鄭衍基), better known as Ah-chi-shih (阿基師), who had openly criticized chefs' inability to calculate the exact amount of food they need to prepare dishes during the World Culinary Contest at the annual Taiwan Culinary Exhibition, said on Thursday that restaurants are wasting food and that owners, chefs and diners should change their ways.
The culinary world should reach a consensus that "reuses cooking," whether it is a more dynamic use of cooking materials or using leftover materials to cook staff meals. That would lower overheads, which is a win-win situation for both restaurants and consumers, Ah-chi-shih said.
The UFS surveyed owners and managers at 357 restaurants in Taipei last month.
The survey found the average quantity of food purchased annually per restaurant totaled NT$1.5 million. Of that total, only 6.8 percent is used, while the rest is kept in storage.
Multiplying that by the 17,000 restaurants in the Taipei area, the quantity of wasted food could be as much as NT$1.7 billion, the survey said.
Every part of the restaurant business can lead to waste, the survey said, adding that 33 percent of wasted food came from food that had expired as a result of inadequate storage and 28 percent because storage areas were full and they could not accommodate more food.
Twenty-six percent of food expired because there was no record of it being in storage, 44 percent because of difficulties in preservation and 29 percent from lack of demand, the survey showed.
Ninety percent of the restaurants surveyed said they purchased more food than was necessary, the survey said.
Taiwan Gourmet Association chairman Chang Shuei-tien (張水田) and Hsiao Tien Ching Fung Lo chief of operations Chiu Chih-yi (邱志義) provided other examples of wastefulness, saying that when cooking, chefs tend to waste all secondary ingredients, such as throwing away the head when making fish-related dishes, throwing away carrot skin or tossing away the stalks of cauliflowers when using them for dish decoration.
Fish heads can be used to make soup, while the carrot skin and cauliflower stalks can be used to make other appetizers, Chiu and Chang said, adding that some chefs' cooking habits also caused severe wastefulness of cooking oil.
Translated by Jake Chung, staff writer
Comments will be moderated. Keep comments relevant to the article. Remarks containing abusive and obscene language, personal attacks of any kind or promotion will be removed and the user banned. Final decision will be at the discretion of the Taipei Times.