Lien Chan voices support for Ma's re-election bid
HAPPY NATION Lien said the KMT needs to keep pushing the government forward and that he hopes that the nation can achieve social harmony
Saying that the nation needs an extraordinary leader, former vice president Lien Chan (連戰) yesterday threw his support behind President Ma Ying-jeou's (馬英九) re-election bid.
In a speech to an event hosted by the National Women's League of the Republic of China (ROC) yesterday in an early celebration of the ROC's Double Ten National Day, Lien said the ROC has been able to reach its 100th anniversary because of the blood and sweat of its predecessors who had -sacrificed -themselves for the nation, adding that he hoped in the ROC's next century, the people of Taiwan would do the same.
The Chinese Nationalist Party (KMT) needs to make sure it pushes the government forward, Lien said, adding that he hoped the nation would advance toward gender equality and achieve social harmony.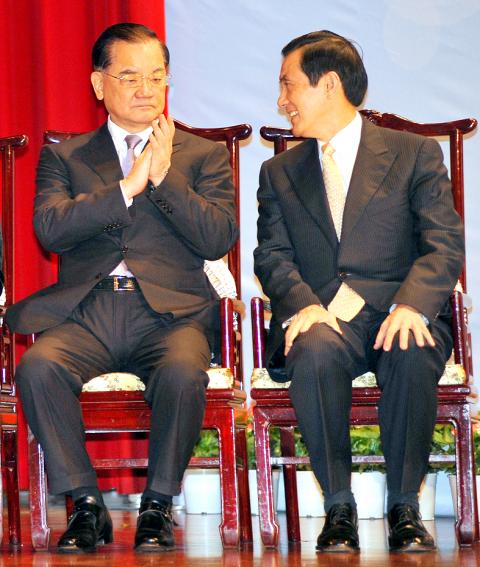 President Ma Ying-jeou, right, talks to former vice president Lien Chan at an event in Taipei yesterday.
Photo: Lu Chun-wei, Taipei Times
Lien went on and expressed the hope that everyone who attended the gathering would use their influence "to support President Ma and the KMT for their continued stay in office."
In response to a media query, Lien later said on the sidelines of the event that rumors that Ma was not respecting the party's elders were untrue.
After the speeches, Ma, Lien, Lien's wife, Lien Fang Yu (連方瑀), Legislative Speaker Wang Jin-pyng (王金平) and National Women's League chairwoman Cecilia Koo (辜嚴倬雲) shared the stage and sang Ode to the Republic of China while waving ROC flags amid occasional shouts of "Ma, get elected" from members of the audience.
Comments will be moderated. Keep comments relevant to the article. Remarks containing abusive and obscene language, personal attacks of any kind or promotion will be removed and the user banned. Final decision will be at the discretion of the Taipei Times.