Hundreds evacuated due to rain
ANGRY FAMILIES: Some parents said they were fed up after the government canceled classes in the morning, leaving them to scramble to various schools
Hundreds of residents in Yilan and Hualien counties yesterday were forced to evacuate as northern and eastern parts of the nation continued to receive torrential rain.
In a statement on Sunday, the Ministry of National Defense said it had received requests to evacuate 340 residents in Datong Township (大同), Yilan County, and about 200 residents in Guangfu Township (光復), Hualien County, to safer locations. Meanwhile, torrential rain brought by the combined effect of Typhoon Nalgae's outer arms and the northeast monsoon caused flooding in other townships in the two counties.
The Yilan and Hualien county governments yesterday morning canceled work and school for the rest of the day amid the emergency, angering some parents who said they had been given too short a notice.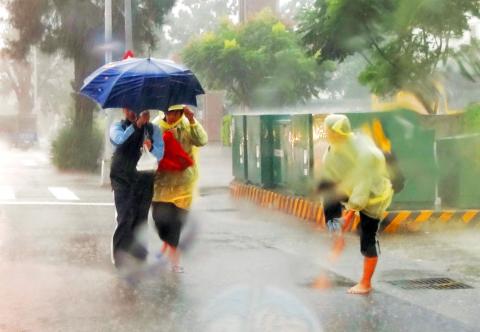 Students in Hualien County yesterday morning walk home after the county government closed schools and offices because of strong winds and -torrential rain.
Photo: Yu Tai-lang, Taipei Times
The Chinese Culture University in Taipei also canceled classes because of strong winds and heavy rainfall in the Yangmingshan (陽明山) area, but its office remained open.
A resident of Yilan County told the TV news he had to make three trips to pick up his children because they were in three different schools.
"They decided to cancel classes at the last minute. What is the government doing?" he asked.
Statistics from the Central Weather Bureau showed the bureau's observation station in -Nioudou (牛鬥), Yilan County, had registered the highest rain accumulation, with 1,604mm falling since -Saturday. This was followed by the observation stations in Gulu (古魯) and Dongao (東澳), both in Yilan, with accumulated rainfall reaching 1,578mm and 928mm respectively.
Strong winds also stuck -Hengchun and other coastal areas.
The Directorate-General of Highways (DGH) closed road sections on the Suhua Highway (Highway No. 9), Highway No. 7 and other provincial highways as a precaution. Traffic on highway Nos. 20, 9 and 11 was also interrupted by -landslides and mudflows.
The DGH said that as a result of heavy rainfall, it had reduced the interval at which it monitored rainfall estimates and mudflow from four hours to three hours.
Commenting on the heavy rainfall in the past three days, the DGH said rains were hitting some areas like members of a guerrilla organization in the initial stages of war.
Massive rainfall was reported in Nioudou as well as Wanrong (萬榮) and Guangfu in Hualien.
A red-code landslide warning, the highest warning level, has been issued for 11 rivers in four villages in Guangfu and a yellow alert was issued for another seven rivers.
"This is like a shooter launching intensive attacks with a rifle," the DGH said.
The DGH said Nioudou had received more than 1,000mm on Sunday, but heavy rainfall did not occur on the Suhua Highway until yesterday.
The DGH closed the section between Suao (蘇澳) and Dongao (東澳) on the Suhua Highway at 8am. By 12pm, accumulated rainfall in this section had already surpassed 640mm.
The highest hourly rainfall hit 100mm within two hours after the section was closed. The bureau said rain was expected to ease today, with chances of showers remaining high in northern regions.
Another northeast monsoon is forecast to arrive tomorrow, but temperatures could rise above 30°C for the Double Ten holiday on Monday, the bureau added.
Additional reporting by CNA
Comments will be moderated. Keep comments relevant to the article. Remarks containing abusive and obscene language, personal attacks of any kind or promotion will be removed and the user banned. Final decision will be at the discretion of the Taipei Times.