Investors march against Chinese authorities
VICTIMS: Angry Taiwanese businesspeople said they were cheated by China's government. A protester said most did not trust an investment pact with China
A group of China-based Taiwanese businesspeople defied rainy weather conditions in Taipei yesterday to stage a demonstration against the Chinese authorities, whom they accused of oppressing and deceiving them.
At least 30 vehicles gathered in front of the National Palace Museum at 1pm to begin a march around the city, said Shen Po-sheng (沈柏勝), a Taiwanese businessman who had operations in China.
The demonstration was organized by an association of Taiwanese investors who said they fell victim to scams perpetrated by their Chinese partners in collaboration with members of China's judiciary.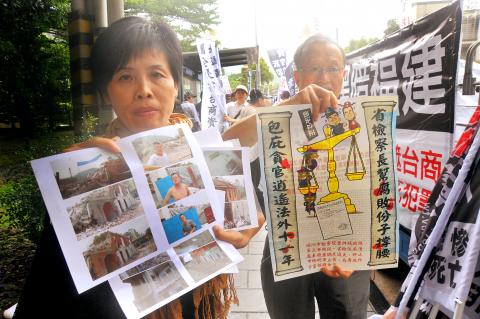 Victims of Investment in China Association president William Kao, right, and some investors yesterday stage a protest in downtown Taipei accusing Beijing of bullying Taiwanese businesspeople.
Photo: Lu Chun-wei, Taipei Times
Shen, who went to Tianjin to do business 20 years ago, said he lost 190 million yuan (US$29.7 million) when his factory was illegally seized by the Chinese government, but received government compensation of only 16 million yuan.
He said that after his complaints to the Tianjin municipal government and prosecutors' office were ignored, he tried to kill himself in Tiananmen Square in Beijing in protest.
Huang Hsi-tsung (黃錫聰), one of the organizers of the demonstration, accused Fujian provincial officials and banks of "collusion" by forging his name and that of -another Taiwanese to apply for loans in their names with four banks.
The two Taiwanese refused to pay the debts they did not owe and had their companies seized by court orders as a result, Huang said.
The case spent 11 years in China's justic system, but eventually "came to nothing, despite our greatest -efforts," he said.
The business group decided to take to the streets to warn other Taiwanese that "investing in China is a dead end," Shen said.
Most businesspeople do not trust a bilateral investment protection agreement Taipei hopes to sign with Beijing, Shen said, because China already had -investment protection laws and rules for Taiwanese that are not being enforced.
"What's the point of signing this agreement? It will never benefit Taiwanese businessmen. [China's] only purpose is to form another 'united front,'" Shen said.
Huang told a press conference last week he had received a -threatening telephone call on Wednesday from Zhang Jiwei (張繼偉), an official from the People's Procuratorate of the Province of Fujian, who said "agents" would be sent to Taipei to collect information and that if anything "inappropriate" was said or done during the protest, they would take retaliatory action.
Comments will be moderated. Keep comments relevant to the article. Remarks containing abusive and obscene language, personal attacks of any kind or promotion will be removed and the user banned. Final decision will be at the discretion of the Taipei Times.