WCD event targets youth contraceptive awareness
TAKING PRECAUTIONS: One advocate said that teaching young people how to avoid unplanned pregnancy and STDs did not mean encouraging them to have casual sex
As part of World Contraception Day (WCD) today, the Taiwan Happiness Education Association yesterday organized a public campaign in Taipei's Ximending (西門町) to encourage young people to improve their awareness of sexual health and contraception.
The association made public a worldwide survey on the sexual and contraceptive knowledge of people between the ages of 15 and 24, and highlighted the need for women to have access to more accurate information to prevent unplanned pregnancies and the spread of sexually transmitted diseases.
Short promotional films teaching the correct way to use contraception were played and contraceptive information displayed on a number of posters.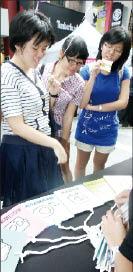 Visitors to Taipei's Ximending area look at promotional materials at an event organized by the Taiwan Happiness Education Association yesterday to promote World Contraception Day, which falls today.
Photo: CNA
"In the past, many people thought the use of contraception, especially condoms, was the responsibility of the man, but condoms are not always 100 percent effective," said Chen Pao-jen (陳保仁), Min-Sheng General Hospital deputy superintendent and Taiwan Association of Gynecology Standing trustee.
"For example, some people believe that using two [condoms] is better than one or that they [condoms] should be carried one's the wallet for convenience, but friction actually increases the probability of condoms breaking. Keeping them in a car is also a bad idea, because they can be damaged by sunlight. These are all common misconceptions," Chen said.
The report shows that one-third of young Asian women surveyed had little knowledge of contraception, while 56 percent of the young women polled in Taiwan said they did not use any protection the first time they had sex.
The survey was conducted last month, with 6,077 interviewees from 30 countries, with about 200 interviews done in each country.
Chen said of the 200 young people surveyed in Taiwan, 70 percent reported having already had sex, but about 20 percent had their first experience at the age of 18 or 19.
In comparison with Europe and the US, Chen said the percentage was about the same, but the first sexual experience was on average taking place a little later
Moreover, he said most young people in Taiwan obtained their information on contraception from the Internet, at about 50 percent, although 20 percent of those interviewed also doubted the reliability of such online information
"How best to provide young people with accurate and effective information about contraception is a very important issue," Chen said, adding that schoolteachers should also be educating their pupils about contraception.
The association said that people aged 16 to 22 should use both condoms and the birth control pill, while those aged between 23 and 35 could choose whichever method they were most comfortable with and those between 36 and 51 should consider more long- term contraception.
"One of the reasons young women are hesitant about using the birth control pill is that they fear it can cause such side affects as obesity, acne and nausea," Chen said, adding that improved pills had already solved these problems, so that cases of nausea were mostly overcome within a few weeks.
The birth control pill is the most effective form of contraception, working 99 percent of the time, whereas condoms are effective only 85 percent of the time, though they have the added benefit of preventing one catching sexually transmitted diseases, Chen said.
Teaching young people how to protect themselves from unplanned pregnancy and sexually transmitted diseases did not mean encouraging them to have casual sex or become sexually active earlier in life, Chen said.
Comments will be moderated. Keep comments relevant to the article. Remarks containing abusive and obscene language, personal attacks of any kind or promotion will be removed and the user banned. Final decision will be at the discretion of the Taipei Times.