Comics feature local dieties, beliefs
By Chen Yi-ching
Staff Reporter
Several of the authors of comic books that won awards at the Excellent Comics Awards on Saturday featured material that touches on traditional beliefs in Taiwan, including deities such as Nuozha (哪吒), Di Ji Zhu (地基主) and Matsu (媽祖).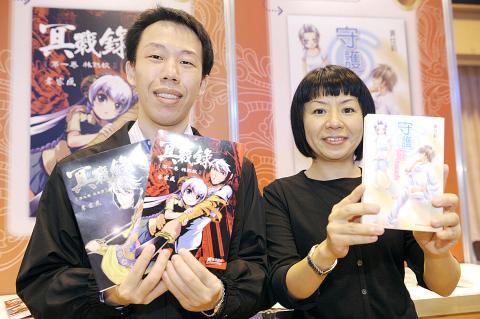 Huang Chia-li, right, and Wei Zhong-cheng hold up their award-winning entries at the Excellent Comics Awards on Saturday.
Photo: George Tsorng, Taipei Times
The Excellent Comics Awards, which have been held annually for the past two decades, gave ratings to two groups of authors — those who have already published and those who have yet to do so.
First and third place in the first category went to Shou Hu Ling TOUCH (守護靈TOUCH) by Huang Chia-li (黃佳莉) and Ming Zhan Lu (冥戰錄) by Wei Zhong-cheng (韋宗成).
Xing Fu Tiao Wei Liao (幸福調味料) by Juan Kuang-min (阮光民) and Liu Se Dao Yuan (六色稻遠) by Chang Yi-lin (張宜琳) were in the top three in the second category.
Huang's comic used the subject of Taiwan's religious figures, such as Nuozha and others, and narrated the stories of their coming to the mortal realm.
Because of the heavy influence of Japanese comics on the domestic comic industry, "it's as though we don't have roots of our own," Huang said, adding that this was what prompted her to start with figures that were best known and popular in Taiwan.
Religion was one of the most common as well as traditional aspects of Taiwan, Huang said, adding that her mother used to threaten her younger brother when he was unruly that she would send him off to be Nuozha's son.
The saying stems from the traditional folk belief that children should be raised by their own parents and that if they were given to someone else to be raised, it was a sign that they were not wanted.
Huang received NT$250,000 in prize money for her comic, winning first place in the first category.
Wei's Ming Zhan Lu had Matsu as the central character, departing from the usual depiction of the goddess and turning her into a cute girl, accentuating the image with Taiwan-centric overtones such as her eating meat buns and drinking honeyed Chinese Meson.
Juan's comic focused on using condiments made by the main character as the adhesive "glue" in the story's theme of familial and romantic love.
"Juan's style is very simple, but the storyline surrounding the main character's hand-made soy-sauce reflects the extraordinary aspect of the lives of ordinary people," said Chen Chih-hua (陳治華), chairman of the judges' panel.
Chang, the other winner in the second group, finished her comic while working at Sanyo Electric (Taiwan) Co Ltd. The content of the comic was about the life of farmers, but Chang herself had no experience or background in farming and had to travel to Taitung to observe the lives of farmers.
Translated by Jake Chung, Staff Writer
Comments will be moderated. Keep comments relevant to the article. Remarks containing abusive and obscene language, personal attacks of any kind or promotion will be removed and the user banned. Final decision will be at the discretion of the Taipei Times.