'Easier' repayment terms for students
STUDENT SWEETENER: The Ministry of Education said the changes to the payback conditions would benefit 200,000 students, mainly from less privileged families
President Ma Ying-jeou (馬英九) yesterday announced a plan to introduce easier repayment terms on government-issued student loans from next year, saying it was part of his administration's efforts to narrow the gap between rich and poor.
"The government wants to ensure that the needs of the disadvantaged are being met so that children of underprivileged families can have a chance to change their destiny," Ma said at a news conference.
The revisions to the repayment plans will take effect on Feb. 1 next year, he said.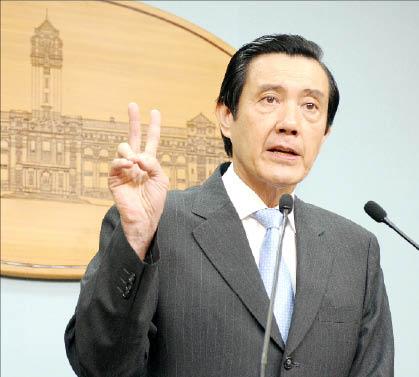 President Ma Ying-jeou announces plans to amend repayment terms for government student loans at a press conference at the Presidential Office in Taipei yesterday.
Photo: George Tsorng, Taipei Times
Under the new terms, the maturity period is two years for each semester for which the loan was made in the case of students from low-income or lower-middle--income families, the Ministry of Education said.
At present, the repayment period for government-issued student loans is 1.5 years for every semester of tuition covered, regardless of family income level. Also, the categories of borrowers eligible for three-year extensions of repayment will be widened to include lower-middle-income families and all borrowers who make less than NT$30,000 (US$1,000) a month, the ministry said.
Currently, only students from low-income families or those earning less than NT$25,000 a month are eligible for the maximum three-year extension. In addition, the maximum amount loaned to low-income students to cover cost of living will be increased from NT$6,000 to NT$8,000 per month.
Lower-middle-income students will also become eligible to obtain loans for this purpose, at a maximum of NT$4,000 per month.
Minister of Education Wu Ching--ji (吳清基) said that every year the government receives about 810,000 applications for student loans and spends more than NT$3 billion subsidizing the interest on such loans.
The new program will benefit 200,000 students and graduates and increase government spending by NT$600 million a year, Wu said.
Ho Cho-fei (何卓飛), director-general of the ministry's Department of Higher Education, said the extension of the maturity period on student loans will help ease the pressure on economically disadvantaged students.
For example, the monthly payments for an undergraduate who borrows NT$400,000 to cover eight semesters of tuition will drop from NT$3,300 to NT$2,400 if the repayment period is extended from 12 years to 16 years, He said.
If a student borrows money through four years of undergraduate study, two years in a master's program and four years of doctorate study, the loans can be spread over a maximum period of 43 years, including a three-year deferred repayment period, the ministry said.
The plan, however, received a lukewarm response from student organizations.
Lin Sheng-hsiang, spokesman for a group of undergraduates who will become first-time voters next year, said the new repayment terms will not help students much because they will have to repay the loans in any case.
Chen Ting-hao, a member of a group that promotes the rights of university students, said the fundamental way of reducing the financial pressure on students is to ensure that tuition is affordable so that they do not need to take loans out in the first place.
He said the government should provide more funding to universities, especially private ones, so that they would not have to increase tuition to cover their costs.
Comments will be moderated. Keep comments relevant to the article. Remarks containing abusive and obscene language, personal attacks of any kind or promotion will be removed and the user banned. Final decision will be at the discretion of the Taipei Times.