King Pu-tsung leaves on 13-day trip to US
POSITIVE THINKING: King said a majority of Taiwanese supported the 'status quo,' which was why the president had introduced his 'three noes' policy on cross-strait relations
King Pu-tsung (金溥聰), executive director of President Ma Ying-jeou's (馬英九) re-election campaign office, will leave for a 13-day trip to the US on Friday next week to boost Ma's momentum among overseas supporters ahead of the January presidential election.
King will take part in campaign activities organized by overseas support groups in Washington, New York, Boston, Houston, San Francisco and Los Angeles, in an attempt to consolidate overseas support for Ma and his running mate, Premier Wu Den-yih (吳敦義).
Ma's Democratic Progressive Party (DPP) rival, DPP chairperson Tsai Ing-wen (蔡英文), will visit the US on Sept 12.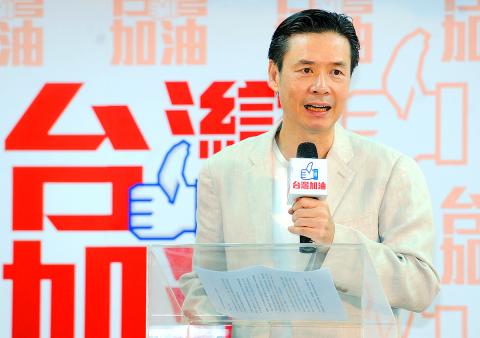 King Pu-tsung, head of President Ma Ying-jeou's re-election campaign office, speaks to the media yesterday about the Chinese Nationalist Party's (KMT) prospects in southern Taiwan.
Photo: Liao Chen-huei, Taipei Times
"Elections are about campaign activities and competing against rivals. It is meaningless to try and distort the purpose of my trip," King said yesterday.
The trip to the US, will largely stick to the itinerary followed by Ma during his presidential election campaign in 2008, King added.
The delegation will be led by Legislative Deputy Speaker Tseng Yung-chuan (曾永權) and include several KMT legislators and legislative candidates. Ma's campaign office spokesperson, Lee Chia-fei (李佳霏), yesterday dismissed allegations that several KMT legislators had declined invitations to join the delegation. Most legislators would have to stay home because the new legislative session starts on Sept 16, she said.
Tsai will head a delegation to the US from Sept. 12 until Sept. 21, and according to a itinerary released by the DPP, will visit Washington, Boston, San Francisco and Los Angeles. She is scheduled to visit think tanks, make a speech at Harvard University and meet with supporters in the US-Taiwan community to boost her support.
Commenting on Tsai's cross-strait campaign platform, King yesterday challenged her call for a "Taiwan consensus" and urged her to present voters with practical cross-strait policies.
"The real 'Taiwan consensus' is that all Taiwanese want to have better lives, and to reach this goal Tsai should present practical plans, rather than offering cross-strait policies based on wishful thinking," he said.
A majority of Taiwanese support the "status quo," and that was exactly why Ma presented his "three noes" policy, King added.
Describing Tsai's cross-strait platform as vague and empty, Ma yesterday said: "The 'three noes' policy is my so-called 'Taiwan consensus,' and our consensus with the other side of the Taiwan Strait is 'one China, each side having its own interpretation.' We've proved over the past three years that both sides accept these policies."
The "three noes" refers to a policy proposed by Ma in 2008 — no pursuit of unification, no Taiwanese independence and no use of force in handling cross-strait relations.
With Tsai unveiling her policies during the campaign, King said Ma would present his "golden 10-year policies" by the end of next month.
The campaign office indicated that it expected Ma's policy presentation to launch a series of debates with Tsai that will focus on the candidate campaign platforms.
King also shrugged off concerns about a lack of support for the KMT in southern Taiwan, saying that the party was confident it would consolidate its support base in the southern cities.
Comments will be moderated. Keep comments relevant to the article. Remarks containing abusive and obscene language, personal attacks of any kind or promotion will be removed and the user banned. Final decision will be at the discretion of the Taipei Times.