Homestay visitors share experiences as trip ends
More than 200 people from around the world who have been visiting Taiwan for about two weeks gathered at the Taipei Guest House yesterday to express their gratitude and share their experiences a day before returning to their home countries.
As part of the Republic of China's centennial celebrations, the Council for Cultural Affairs invited 238 people between the ages of 18 and 40 from more than 115 countries to participate in a homestay program to experience life and culture in the country from Aug. 12 until today.
"We thank you for taking the time to come and visit us at this proud moment in our history," Council for Cultural Affairs Minister Emile Sheng (盛治仁) said.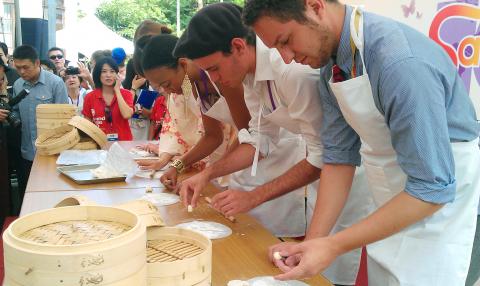 Visitors to Taiwan make dumplings at an event held as part of the Republic of China Centennial International Youth Week, which was sponsored by the Council for Cultural Affairs, in Taipei yesterday.
Photo: CNA
"I hope your friendship with Taiwan lasts forever," Sheng said.
FRIENDLY AMBASSADORS
Vice President Vincent Siew (蕭萬長) extended his gratitude to the local host families, describing them as "friendly ambassadors."
One of those participating in the two-week program was St Kitts and Nevis resident Iantavian Queeley, who has won three beauty pageants in the Caribbean.
Queeley, nicknamed "Queen" among her Taiwanese friends, said she was very impressed by the friendliness and hospitality of Taiwanese.
"From the time I got here, everyone I've come in contact with has been very welcoming and very warm and genuinely hospitable," Queeley said.
SECOND HOME
"I feel like it's like a second home now. I have so many friends here and feel like I have a second family, so I can come back whenever I need to take a break," she added.
A farewell party was held later yesterday evening, which Premier Wu Den-yih (吳敦義) and other government officials attended.
Comments will be moderated. Keep comments relevant to the article. Remarks containing abusive and obscene language, personal attacks of any kind or promotion will be removed and the user banned. Final decision will be at the discretion of the Taipei Times.