Tsai unveils DPP economic vision
BIG PICTURE: The DPP presidential candidate said she would stress macroeconomic management, as well as urban-renewal projects if elected president in January
The Democratic Progressive Party (DPP) will formulate its policies on the economy, banking and technology with a new mindset and new approaches to help the nation meet the challenges of the next 10 years, DPP Chairperson Tsai Ing-wen (蔡英文) said yesterday.
The DPP presidential candidate said her party would approach the nation's development with a dramatically different set of values and views than those of the Chinese Nationalist Party (KMT), which believes in GDP-driven economics and has failed to supervise banking and develop the technology sector in a bid to help all Taiwanese.
"We are confident that these policies will prepare Taiwan for the next 10 years, which is expected to be turbulent and rife with challenges from globalization and continual changes," Tsai told a press conference.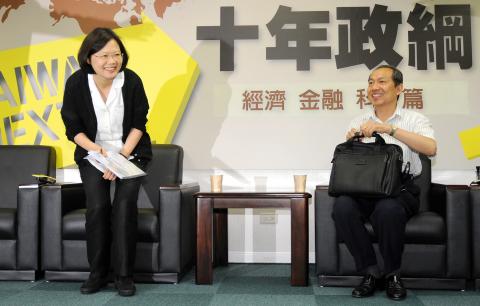 Democratic Progressive Party Chairperson and presidential candidate Tsai Ing-wen, left, announces the economic, financial and technological elements of the party's 10-year policy guidelines in Taipei yesterday.
Photo: Lo Pei-der, Taipei Times
The press conference was part of a series of presentations during which the party's wide-ranging 10-year policy guidelines — effectively Tsai's presidential platform — have been unveiled.
If elected president in January next year, Tsai said the DPP would stress macroeconomic management, which has not been successful under President Ma Ying-jeou (馬英九), who is seeking his second term, by establishing an inter-agency policy formulation and coordination institution.
The new administration would do its best to help blue-collar workers, fishermen and farmers by promoting local economies, creating job opportunities and encourages innovation, she said.
Tsai also plans to boost the domestic economy through a variety of approaches, including large-scale urban regeneration, which she said could be the largest domestic industry in the next 10 years.
Contrary to government-driven technology development in the past, Tsai said the private sector should be able to take the lead in the future.
In the past, technology development throughout the nation was not used to benefit all Taiwanese and a majority of the government's resources were put into the information and communications technology (ICT) sector, she said.
A strong domestic defense industry, which has been a non-factor in the past, is an essential part of the DPP's economic plan.
Regarding banking, the DPP is confident that it would be able to encourage development, while maintaining effective supervision of the sector at the same time, said Shih Jun-ji (施俊吉), former chairman of the Financial Supervisory Commission.
The DPP would not want to see an over-centralization of the banking sector, nor does it want large conglomerates that are "too big to fail" as well as "too big to save," Shih said.
Comments will be moderated. Keep comments relevant to the article. Remarks containing abusive and obscene language, personal attacks of any kind or promotion will be removed and the user banned. Final decision will be at the discretion of the Taipei Times.