Lin Hsin-i tipped as running mate
TIME RUNNING OUT: Lin Hsin-i's appointment could come in the nick of time for Tsai Ing-wen, who is running out of options ahead of a self-imposed deadline of Aug. 28
Democratic Progressive Party (DPP) chairperson and presidential candidate Tsai Ing-wen's (蔡英文) short list for running mate could include a former top government official in charge of economic planning, Central News Agency (CNA) reported.
Lin Hsin-i (林信義), a former vice premier and economic adviser to former president Chen Shui-bian (陳水扁), has been rumored to be a potential candidate, with Tsai running short on time to make a final decision before next month.
The 57-year-old is seen by some observers to fulfill some of Tsai's preferences that her running mate should have business experience and should come from outside the political establishment, but DPP officials have refused to either confirm or deny the CNA report, which cited senior party sources.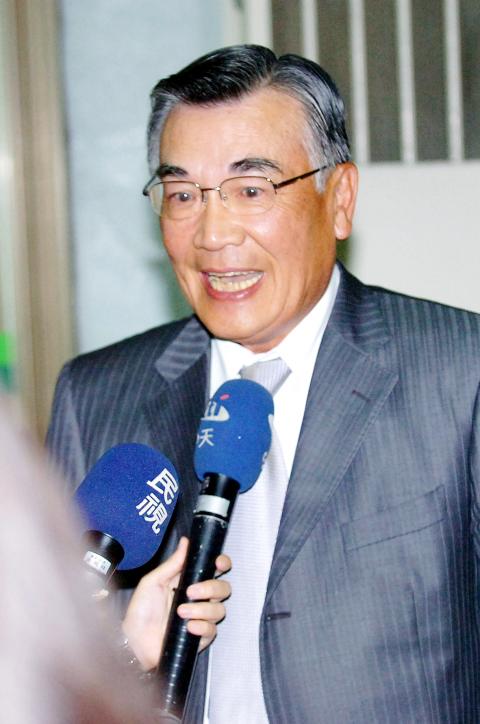 Former vice premier Lin Hsin-i talks to the media on Oct. 29, 2008.
Photo: George Tsorng, Taipei Times
Potential talks between Tsai and another rumored pick, central bank Governor Perng Fai-nan (彭淮南), allegedly broke down in May after news reports emerged about a secret late-night meeting between the two that led senior government officials to speak out against the matchup.
Lin's appointment could come in the nick of time for Tsai, who is running out of time and options with a self-imposed deadline of Aug. 28 rapidly approaching.
That date is when the DPP holds its annual party congress, a day-long event that presidential candidates have traditionally used to showcase their ticket and build momentum for the election bid.
Lin, who according to sources is not a DPP member, could not be reached for comment yesterday.
Other rumored contenders for a vice presidential bid have included DPP Secretary-General Su Jia-chyuan (蘇嘉全), who had an impressive showing last year in the election in Greater Taichung, where Tsai is relying on massive gains in her bid for the presidency.
Su is seen as a back-up, with Tsai's campaign having made it clear that she would look for candidates both inside and outside the party.
There have also been continued calls for Tsai's former primary opponent, Su Tseng-chang (蘇貞昌), to join her on the ticket, although they have both signaled that the pairing would not be likely.
Refusing to comment on any individual cases, DPP spokesperson Liang Wen-jie (梁文傑) said Tsai's requirements for running mate were simple.
"The person would have to be beneficial to future DPP governance and to expand the DPP's support base," Liang said.
"If they possess these two attributes, it would not be important whether or not they belonged to the DPP," he said, adding that the party has its own time line and schedule for selecting a running mate.
Meanwhile, former premier Frank Hsieh (謝長廷), one of the top officials in Tsai's campaign, yesterday denied remarks reported in an interview with the Chinese-language China Times Weekly that he claimed were taken out of context.
Hsieh denied he confirmed in the interview that Tsai's running mate would come from outside the party.
Comments will be moderated. Keep comments relevant to the article. Remarks containing abusive and obscene language, personal attacks of any kind or promotion will be removed and the user banned. Final decision will be at the discretion of the Taipei Times.