Supporters of slain captain press AIT
RESPONSIBILITY: Wu Lai-yu's family said it was asking the US for US$3 million in compensation, while the US Navy issued a statement that it acted within the law
Leaders of fishermen's associations, government officials and lawmakers yesterday showed their solidarity with the family of a Taiwanese skipper killed by the US Navy in an anti-piracy operation against Somali pirates.
"Truth, an apology and reasonable compensation are what we demanded from the US. We will not give up asking for these until the US responds to our demands," Huang Yi-cheng (黃一成), head of a national fishermen's association, said after an appeal was lodged with the American Institute in Taiwan (AIT).
Huang, along with several dozen leaders of local fishermen's associations and fishermen, accompanied the family of Wu Lai-yu (吳來于), who died on May 10 during a NATO-led operation against pirates who had hijacked his ship, Jih Chun Tsai No. 68, to present their appeal to the legislature and the AIT.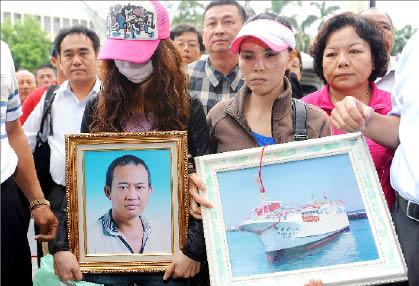 Wu Tien Li-shuo, right, widow of captain Wu Lai-yu, who was killed on May 10 when a US Navy vessel intercepted his hijacked fishing boat, and their daughter, Wu Hui-hwa, hold pictures of the deceased captain and his boat, Jih Chun Tsai 68, outside the American Institute in Taiwan in Taipei yesterday.
Photo: Chang Chia-ming, Taipei Times
AIT officials, led by AIT Deputy Director Eric Madison, received Wu's widow, Wu Tien Li-shuo (吳田麗說), and his youngest daughter, Wu Hui-hwa (吳惠華), during a 40-minute meeting, which was also attended by some Taiwanese government officials.
"They [the AIT] did not give us any promises, not even for the deadline of Aug. 15 [we set for them] to get back to us on questions which haven't been answered. It's been too long and that's quite unacceptable," Wu Hui-hwa said.
The news of Wu's death was withheld for 11 days until it was published in a NATO press release dated May 18, which the Ministry of Foreign Affairs noticed on May 21.
A US investigation into the incident was released in a three-page report delivered to the ministry on Saturday, in which the US said Wu Lai-yu was "killed inadvertently by ammunition fired" by the US Navy.
Wu's family does not feel that the investigative report clearly details how the fatality occurred.
"What we're most concerned with is the truth. Why did the US decided to use force at that time when it knew there were hostages onboard?" Wu Tien Li-shuo asked.
In the written appeal to the AIT, Wu's family said they were asking for US$3 million in compensation.
In a telephone interview with the Taipei Times afterwards, AIT spokesperson Christopher Kavanagh said the AIT has listened to the grievances raised by Wu's family and "will send their concerns back to Washington."
Earlier yesterday at a press conference, Chinese Nationalist Party (KMT) Legislator Ho Tsai-feng (侯彩鳳) and Department of African Affairs Director-General Samuel Chen (陳士良) said they would continue to side with Wu's family and pressure the US to respond to their demands.
In a related development, the US Navy has issued a new release stating that the investigation by the US Navy's 5th Fleet has determined that the operation "to rescue the Taiwanese fishing vessel Jih Chun Tsai 68" was "in accordance with existing rules of engagement and in compliance with international law."
The press release did not elaborate on what rules of engagement it referred to.
In response to an e-mail inquiry by the Taipei Times on June 10, NATO said "all NATO current actions are fully in accordance with the United Nations Convention on the Law of the Sea and are supported by the United Nations Security Council Resolutions 1814; 1816; 1838; 1846; 1851; 1897 and 1950."
NATO, which authorized the use of force, said that "as ever the primary aim of NATO Forces in Operation Ocean Shield remains the safety of all those caught up in piracy activities — hostages, crew, naval personnel and pirates."
The Ministry of Foreign Affairs did not comment on the legal position of the US Navy in this case.
"I have no comment on that for the moment because of insufficient information provided by the US in the report," Bruce Linghu (令狐榮達), the director-general of the Department of North American Affairs, said yesterday.
Comments will be moderated. Keep comments relevant to the article. Remarks containing abusive and obscene language, personal attacks of any kind or promotion will be removed and the user banned. Final decision will be at the discretion of the Taipei Times.