Drink shop in Taipei caught using dodgy plastic lids: report
RED HANDED: A customer had a plastic cup and its lid tested after holes appeared on the lid because an acidic orange drink reacted with the polystyrene used in it
A drink shop in Taipei was recently found to be using substandard lids on plastic cups after a customer reported that four holes had suddenly appeared in a lid used on a cup of fresh orange juice.
According to a report in the Apple Daily yesterday, the customer noticed the holes about 20 minutes after purchasing the drink, while he found small flakes from the plastic inside the drink.
The customer sent the plastic cup and its lid to a laboratory for testing, the paper said.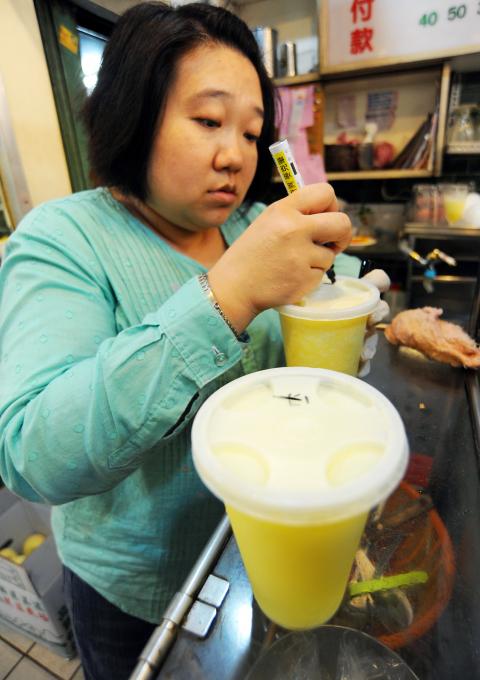 A worker marks lids on disposable beverage cups at a shop in Taipei yesterday.
Photo: Lo Pei-der, Taipei Times
The tests determined that the lid was made of polystyrene (PS), a substance used to make polystyrene foam.
The drink shop had bought the lids from a company in Lukang (鹿港), Changhua County.
The Environmental Protection Administration's Recycling Fund Management Board said it would notify the Changhua Environmental Protection Bureau about the problem.
The manufacturer of the lids could face fines, the board said.
Lin Chieh-liang (林杰樑), a toxicologist at Chang Gung Memorial Hospital in Linkou Township (林口), New Taipei City (新北市), said PS was not resistant to high temperatures or acidic liquids, such as orange and lemon juice.
Contact with acidic liquids causes styrene, a cancer-causing substance, to leach from PS containers, Lin said.
He suggested that drink sellers use plastic containers made of polypropylene (PP), a material typically coded as plastic No. 5, which can withstand temperatures of up to 140°C and is resistant to acidic, alkaline or alcoholic beverages.
Comments will be moderated. Keep comments relevant to the article. Remarks containing abusive and obscene language, personal attacks of any kind or promotion will be removed and the user banned. Final decision will be at the discretion of the Taipei Times.