Call center outsourcing panned
DENIAL: A spokesperson for Far EasTone said the firm had consolidated its local call centers in Kaohsiung and that a China-based center only handled its Chinese calls
Human rights and labor groups yesterday protested against telecoms companies at the National Communications Commission (NCC) in Taipei for allegedly outsourcing call centers to China, saying the move could drastically reduce job opportunities for young or disabled workers in Taiwan.
The protesters said China had yet to enact laws resembling Taiwan's Personal Information Protection Act (個人資料保護法) and the Communication Protection and Interception Act (通訊保障監察法), making it impossible to protect people's freedom of -communications. They singled out Far -EasTone Telecommunications (FET, 遠傳電信), the nation's third-largest telecoms operator, which said on its corporate Web site that its branch in Shanghai provided call center services to high-end corporate clients engaged in cross-strait telecommunications services.
Taiwan Labor Front secretary-general Son Yu-lian (孫友聯) said that outsourcing call centers would decrease job opportunities for Taiwanese. He said his organization had received complaints in the past from people who had been laid off because their jobs at call centers were outsourced to other countries.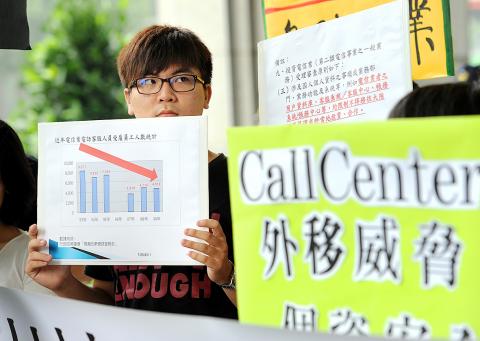 Activists from the Taiwan Labor Front and other groups petition the National Communications Commission in Taipei yesterday to investigate whether Taiwanese telecommunications companies are outsourcing their call centers to China.
Photo: Fang Pin-chao, Taipei Times
"We thought they [the -complaints] were just labor disputes, but later we realized that they exposed a much bigger issue," Son said. "In the past, it was only companies in the manufacturing industry that would outsource. Now, even the service industry [sector] has started outsourcing jobs to other nations."
The protesters demanded that the NCC investigate telecoms companies to see if they have outsourced call centers to China. They also asked the Ministry of Economic Affairs to penalize telecoms operators that have illegally invested in China, adding that the Executive Yuan should survey government agencies and state-run corporations to see if they meet legal requirements for the hiring of disabled workers.
In response, FET spokesperson Alison Kao (高治華) said the company had integrated call centers in northern, central and southern Taiwan and moved them all to the Linkuang Industrial Park (臨廣工業園區) in Greater Kaohsiung two years ago. She said the change had created close to 1,000 jobs in the area, adding that the company was planning to recruit more customer service representatives in three upcoming job fairs in Kaohsiung.
"Personnel numbers at our customer services center in Kaohsiung are growing at a rate of between 8 percent and 10 percent per year to meet increasing service demands," she said.
She said FET's branch in China serves only Chinese clients, -including insurance firms and banks.
"Our Taiwanese customers will be served by Taiwanese customer service representatives, and our Chinese customers will be served by those in our branch in China," Kao said.
The NCC said it could determine if any telecoms firm had indeed routed calls to customer service centers in other countries by checking telephone records, adding that it would seek to understand the situation based on regulations in the Personal -Information Protection Act.
Since last year, Taiwanese telecommunications operators have been allowed to open up companies in China, but they are banned from dealing with or disclosing the personal data of Taiwanese customers to Chinese corporations.
ADDITIONAL REPORTING BY CNA
Comments will be moderated. Keep comments relevant to the article. Remarks containing abusive and obscene language, personal attacks of any kind or promotion will be removed and the user banned. Final decision will be at the discretion of the Taipei Times.