FEATURE: Cancer survivor sees dream fulfilled
'LITTLE FINGERS': Ko Shu-ling was sick in bed when her children checked to see if she was still breathing, at which point she realized she was surrounded by love
Cancer does not always have to mean life changes for the worse.
Just ask Ko Shu-ling (柯淑玲), who has managed to fulfill her lifelong dream of becoming a splash-ink artist despite being diagnosed with cervical cancer in the mid-1980s at the young age of 29.
"At first, I couldn't accept that I was almost out of the game," Ko said, who is now 54.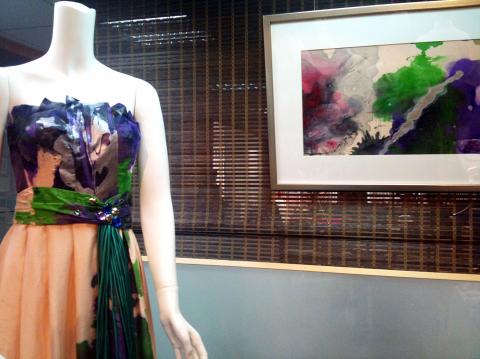 A dress made by fashion designer Fu Tzu-ching, in collaboration with traditional splash-ink painter Ko Shu-ling, is displayed at an art gallery in downtown Taipei on June 29.
Photo: CNA
"I was trying to talk to Bodhisattva, begging for just another 10 years so that I could take care of my three children and fulfill my duties as a mother," added Ko, who is now cancer free.
The housewife-turned-artist recalled a small gesture from her children that touched her emotionally and allowed her feel what love was again.
Ko said that one day she was ill and sleeping in bed when her children "put their little fingers" to her nose to see if their mother was still breathing.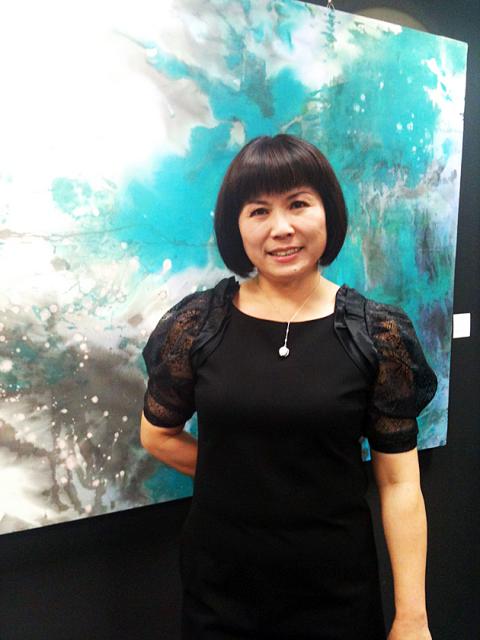 Ko Shu-ling, a survivor of cervical cancer, stands in front of one of her splash-ink paintings at an art gallery in downtown Taipei on June 29.
Photo: CNA
"I suddenly realized at that moment that I had a lot of love around me and that I was truly a fortunate person," she said.
Ko, who had moved to Seattle, Washington, just before she was diagnosed with cancer, decided one day in the early 1990s to take a shot at fulfilling her dream of being an artist.
She drove to Vancouver, Canada, to meet Yang Shan-shen (楊善深), a well-known artist from the second generation of the Lingnan School of Painting, and they discussed how she could pursue her interest.
Ko said she enjoyed calligraphy classes as a child and was fascinated by beautiful things, adding that the seed to become an artist was planted in her by her third-grade teacher.
She recalled that the teacher who discovered her talent bought her a writing brush that cost NT$500 — equal to a month's salary for a schoolteacher at that time — to encourage her.
However, because of her family's financial situation, Ko never had a chance to pursue her passion.
Yang, who later became Ko's teacher, suggested that she not limit herself to studying calligraphy, but also try splash-ink painting.
"You are a brave person, so just paint. Make more lively splashes," Yang told her.
Eight years later in 2001, Ko held her first solo exhibition at the National Chiang Kai-shek Memorial Hall in Taipei. In addition to her artwork, Ko has also had several essays and poems on Buddhism, life and art published.
One of Ko's friends helped arrange a long-term exhibit of her paintings, which opened last month in Taipei, with the goal of providing encouragement to cancer patients and urging people to cherish their lives.
Ko also collaborated with local fashion designer Fu Tzu-ching (傅子菁) to make 24 splash-ink paintings into dresses that were shown at the Taipei International Flora Expo in March. The collaboration was welcomed by the fashion industry.
"Every day when I open my eyes in the morning, I thank Bodhisattva that he has given me one more day to live," Ko said. "I have no time to waste."
Ko has also devoted herself to charity work, helping people in need.
"My dream is to build a nursing home with a garden and farmland so that the residents who live there can do whatever they want," she said.
Comments will be moderated. Keep comments relevant to the article. Remarks containing abusive and obscene language, personal attacks of any kind or promotion will be removed and the user banned. Final decision will be at the discretion of the Taipei Times.