Taiwan's agricultural policies flawed, Lee says
Former president Lee Teng-hui (李登輝) yesterday said the country's agricultural policy was flawed and voiced his support for the thousands of farmers who gathered in front of the Presidential Office over the weekend.
The protest against land expropriation was the latest among many in recent weeks and forced the government to address grievances voiced by farming communities by pledging to renew its focus on the industry, including help in raising fruit prices to possibly increasing farmer subsidies.
'QUICK FIXES"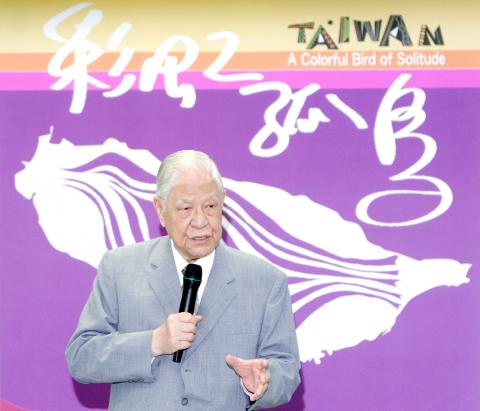 Former president Lee Teng-hui talks at a meeting held at Aletheia University yesterday by the Presbyterian Church in Taiwan.
Photo: CNA
However, calling those solutions "quick fixes," Lee said the problem stemmed from to the lack of a comprehensive agricultural policy.
Lee, a Cornell University--educated expert on agricultural economics, said the government should help develop large-scale farming to increase international competitiveness.
"How can we expect small farmers to compete like before?" Lee told reporters before a youth policy forum. "They have high operating costs, while marketplace prices for their goods continue to be [low]. What can they do?"
Lee made the remarks as farmers directed their growing anger at the administration of President Ma Ying-jeou (馬英九), who they say has allowed agricultural prices to crash amid lagging global exports.
Lee said he had seen potential problems since his time as Taiwan provincial governor in the 1980s. Pointing out that he had once advocated transferring control of the country's 800,000 hectares of farmland to 80,000 younger farmers, he said it was a disappointment that the policy wasn't continued.
PROBLEMS
The roots of the current agricultural issues, he said, could be traced to aging farm workers and decreasing plot size after land has been split up by family inheritance and industrial and residential development.
Referring to a Council of Agriculture plan last year to consolidate the use of farmland by helping older and retired farmers rent their land to larger agricultural businesses, Lee said it was well-intentioned, but had only been haltingly and unevenly carried out.
Large-scale agricultural businesses are better able to control costs and make better use of Taiwan's agricultural expertise, which he praised.
"It's a pity that the government has been all talk and hasn't really extended a caring hand to [farmers]," Lee said about the council's "Small landowners, big agricultural renters" plan.
"As a result, farmers have had no choice but to hit the streets," he said.
Comments will be moderated. Keep comments relevant to the article. Remarks containing abusive and obscene language, personal attacks of any kind or promotion will be removed and the user banned. Final decision will be at the discretion of the Taipei Times.