Farmers protest during president's Yilan visit
LET'S WAIT AND SEE: The president said the Council of Agriculture would study rice market prices before increasing prices again after a NT$3 per kilogram rise
President Ma Ying-jeou (馬英九) yesterday visited farmers in Yilan County to discuss the problem of low prices for agricultural products, but was confronted by a group of protesting farmers who called on the government to help them improve their situation.
Standing outside a forum organized by the Council of Agriculture in Yilan, several dozens of farmers protested against the council's proposed regulations on building farm houses on farm land as they held banners that read "Step down, [Council of Agriculture Minister] Chen Wu-hsiung (陳武雄)!"
Ma defended Chen's efforts to explain government policies, and promised not to sacrifice the rights of farmers.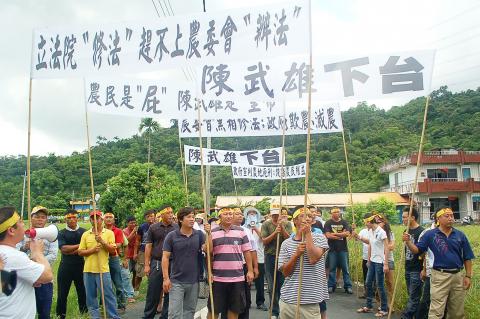 Protesters call for Council of Agriculture Minister Chen Wu-hsiung to step down yesterday outside a venue in Yilan County where President Ma Ying-jeou was holding talks with fruit farmers.
Photo: Chiang Chih-hsiung, Taipei Times
"The government should help farmers increase their income no matter what reformative measures we have. At lease they should not lose money in doing business," Ma said when visiting rice growers in Yilan County's Wujie Township (五結).
Chief executive of the Wujie Farmers Association Lee Lin-chin (李林欽) appealed for central government subsidies to help rice farmers build dehumidifying and storage facilities for their crops.
Another rice farmer suggested that the central government subsidize the transportation of rice under a public grain-purchasing program.
In response, Ma said he would convey the farmers' suggestions to administrative agencies and see how the government could best tackle the issues.
Ma said the price of rice has risen by NT$3 per kilogram this year, and the purchase of rice in Yilan went smoothly.
In response to some farmers' request that the government further increase the purchase price, however, Ma said the council would study the market price before making any adjustments.
Ma, who is seeking re-election in January, also met with pear growers and green onion growers in Yilan County's Sanxing Township (三星), the nation's main green onion producing area, to gain a better understanding of the problems they faced.
In their discussions with Ma, the green onion farmers said that their production costs were much higher than in other areas because of Sanxing's changeable weather.
The farmers said they often -experience difficult days when prices slump, particularly in June and July.
In response, Ma said: "Your problems are my problems. Let's solve them together."
Ma will visit more farmers today in Greater Tainan as part of his efforts to address farming issues.
Amid recent concerns over surplus production of fruit, both Democratic Progressive Party Chairperson Tsai Ing-wen (蔡英文), Ma's election rival, and former president Lee Teng-hui (李登輝) said that the plummeting price of bananas has been an issue for a while and challenged Ma's ability to solve the problem.
Ma yesterday defended the government efforts to improve the livelihood of farmers by seeking to export fruit to more countries, and said the government would strive to enhance communication with farmers.
Additional reporting by CNA
Comments will be moderated. Keep comments relevant to the article. Remarks containing abusive and obscene language, personal attacks of any kind or promotion will be removed and the user banned. Final decision will be at the discretion of the Taipei Times.