Ma talks papayas with hurting Pingtung farmers
BANANA BOAT: Former president Lee Teng-hui asked why China would buy bananas from Taiwan, as Ma has suggested might occur, if they were so cheap in China
President Ma Ying-jeou (馬英九) yesterday promised to look into the problems occurring between the production and sale of fruit and to protect the livelihoods of farmers amid recent complaints about the over surplus of bananas and papayas.
During a visit to Pingtung County yesterday morning, Ma met with a group of papaya farmers and discussed low fruit prices.
Farmers said the transaction price of papaya in Pingtung was NT$3 to NT$5 per 0.6kg, and a box of papayas, which is about 12kg, was only NT$150 from Taipei Agricultural Products Marketing Co.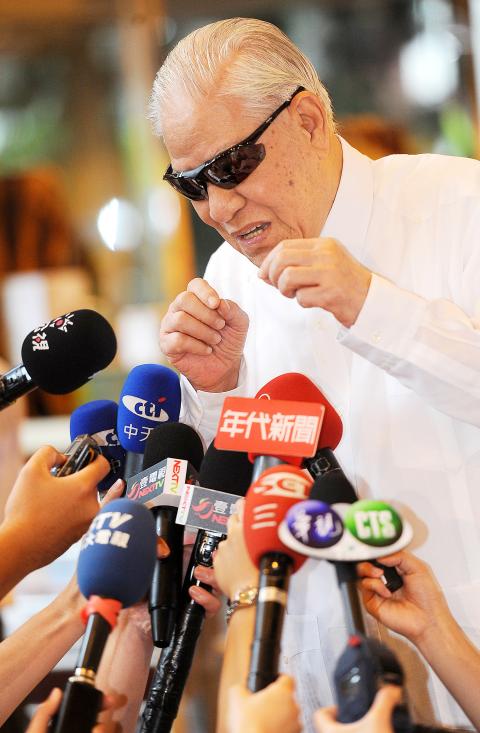 Former president Lee Teng-hui speaks to reporters at Taiwan Advocates' summer youth camp yesterday.
Photo: Liu Hsin-de, Taipei Times
"We can only earn about NT$50 from the sale of each box of papaya and the money is not enough to buy a lunchbox in Taipei," farmer Yen Yue-hsiang (顏月香) said.
Ma said he met with farmers to better understand the problems, promising to look into the issue of production and sale and whether there was any exploitation involved.
"Farmers should have a reasonable income and it's the government's responsibility to protect their livelihoods," Ma said.
The issue of surplus production of fruit was raised last week in Nantou County when Ma met a group of residents and some banana growers from Pingtung County expressed concerns about the low price of bananas.
Ma had instructed Council of Agriculture Minister Chen Wu-hsiung (陳武雄) to establish a notification mechanism to better monitor the production of bananas and papayas, as well as other agricultural produce.
To address the issue, Ma, who is seeking re-election in January, will visit Yilan County today and Greater Tainan tomorrow to meet with local farmers.
At a separate setting yesterday, former president Lee Teng-hui (李登輝) pointed out that the plummeting price of bananas has been an issue for a while and he likened the Ma administration approach to paralysis.
Lee criticized the Ma government of placing its hope for a solution on China purchasing the surplus bananas, saying that despite the rhetoric trumpeted by the government following the signing of the cross-strait Economic Cooperation Framework Agreement (ECFA), the truth of matter was that China has not been purchasing the bananas.
Noting that the going price for banana in China is NT$2 per 0.6kg, "How could [China] afford to buy Taiwan's bananas?" Lee asked.
Lee, who has a background in agricultural economics, called into question that whether Ma knew how many kinds of bananas there were in Taiwan. According to Lee, there are spring, summer, and winter bananas in Taiwan.
Additional reporting by Tseng Wei-chen
Comments will be moderated. Keep comments relevant to the article. Remarks containing abusive and obscene language, personal attacks of any kind or promotion will be removed and the user banned. Final decision will be at the discretion of the Taipei Times.