Suicide numbers drop to five-year low
PREVENTION: The National Suicide Prevention Center had increased the number of visits by staff to individuals at high risk of committing suicide by 40 percent last year
The mortality rate from suicide last year dropped to its lowest level in five years, and for the first time since 2007, suicide was not among the top 10 causes of death, statistics released by the Department of Health showed yesterday.
However, the number of suicide attempts had risen in the past five years, the department said.
In terms of age and gender, young women had the highest number of suicide attempts, the data showed.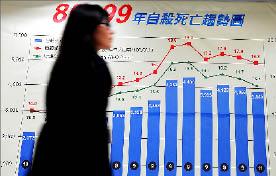 A woman at a press conference held by the Department of Health in Taipei yesterday walks past a chart showing that Taiwan's suicide rate dropped to a five-year low last year, no longer ranking among the nation's top 10 causes of death.
Photo: Chu Pei-hsiung, Taipei Times
Those who failed to kill -themselves were the likeliest to attempt suicide again, the department said.
The department's National Suicide Prevention Center paid regular visits to individuals considered at high risk of attempting suicide, with the number of such visits last year growing by 40 percent from the previous year, the data showed.
The number of people working the suicide prevention hot lines also rose, at 1.57 times more than in 2009.
The center made 300 emergency rescues last year, it said, adding that those measures likely -contributed to the lower mortality rate.
The department said 3,889 people died from suicide last year, or about 17.6 persons per 100,000.
Suicide was the 11th leading cause of death last year, with the number of deaths from suicide at its lowest level since 2006.
The department said the bureau reported about 2,200 attempted suicides per month last year, with the number peaking during the summer period.
The number of women who attempted to commit suicide last year was twice that of men, it said.
Individuals who attempted suicide were mostly between the ages of 25 and 44.
Asphyxiating oneself by burning charcoal, overdosing on sleeping pills or sedatives, or slitting one's wrists were the most frequent methods of suicide, it said.
The bureau said relationship problems, financial troubles and drug abuse were the most common factors behind the decision to end one's life.
To prevent suicides, the center has stationed mental health consultants on school campuses and in communities. It has also trained more professionals while promoting early treatment for people who suffer from depression.
Comments will be moderated. Keep comments relevant to the article. Remarks containing abusive and obscene language, personal attacks of any kind or promotion will be removed and the user banned. Final decision will be at the discretion of the Taipei Times.