Researcher calls on candidates to refrain from chasing polls
'BEAUTY CONTEST': The Formosa Heart Coalition said it had collected more than 100,000 signatures to possibly nominate a third presidential candidate
Academia Sinica researcher Hsu Cho-yun (許倬雲) yesterday urged the candidates in January's presidential election to present concrete proposals rather than vie for better rates in opinion polls as a way to prove they are qualified national leaders.
Hsu, an 80-year-old historian, challenged the candidates at a teleconference press event in Taipei hosted by the Formosa Heart Coalition, which has a Chinese name that means "my heart is still alive (我心未死)."
In an article titled "Advice for the 2012 elections," Hsu expressed disappointment over the failure of both presidential candidates — President Ma Ying-jeou (馬英九) of the Chinese Nationalist Party (KMT) and Democratic Progressive Party (DPP) Chairperson Tsai Ing-wen (蔡英文) — to present ideals and policies, instead focusing their attention on public opinion polls, making the election a mere "beauty contest."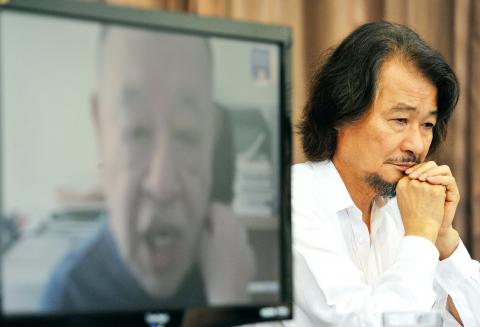 Former Democratic Progressive Party chairman Shih Ming-teh and Academia Sinica researcher Hsu Cho-yun, by video link, comment on the presidential election campaign and next year's presidential election at a press conference in Taipei yesterday.
Photo: Chien Jung-fong, Taipei Times
Over the past two decades, Taiwan has failed to implement the separation of the executive, legislative and judicial powers, the historian said.
A cross-party platform or mechanism should be established to achieve a shared position on Taiwan's external relations, including those with China, he said.
The Formosa Heart, a self--proclaimed neutral campaign led by former DPP chairman Shih Ming-teh (施明德), who has since severed ties with the party, is a coalition of intellectuals, artists and former politicians who said they support neither Ma nor Tsai and say that there should be a "third way" in the direction Taiwan is heading.
The coalition said it has collected more than 100,000 signatures and added that it did not rule out nominating a third presidential candidate for next year's election.
Shih, who participated in an anti-KMT movement during the White Terror era in the 1980s and in 2006 led a mass protest in an attempt to oust then-president Chen Shui-bian (陳水扁), said Taiwan would not be able to enjoy "normal development as a country" until a president decides to be "a president for all people."
In the past, "all we have had is a president for the KMT or a president for the DPP, rather than a president for Taiwan or a president for the Republic of China," he said.
Other public figures attending the press conference included novelists Chen Jo-hsi (陳若曦), Chang Show-foong (張曉風) former Army Commander Hu Chen-pu (胡鎮埔) and political commentator Yao Li-ming (姚立明).
Comments will be moderated. Keep comments relevant to the article. Remarks containing abusive and obscene language, personal attacks of any kind or promotion will be removed and the user banned. Final decision will be at the discretion of the Taipei Times.