FEATURE: Taiwan tries soft power to stamp its mark globally
From chic styles to cuisine, from cinema to comics, Taiwan is trying to project its soft power across the globe in an effort to step out of China's shadow.
The nation is forced to keep its endeavor at a modest level, but it is crucial for its long-term prospects of being seen as an entity in its own right, analysts said.
"Soft power is Taiwan's weapon of the weak given its limited military, economic and political resources," said Lu Yeh-chung (盧業中), a political scientist at National Chengchi University. "It's very important for Taiwan to employ soft power as a tool to attract support from other countries."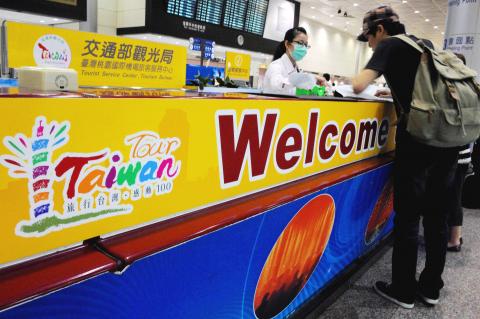 A visitor checks for information at the official tourism desk at Taiwan Taoyuan International Airport on April 27.
Photo: AFP
The term "soft power" describes how a nation can succeed not only through the use of coercion or economic power, but by appearing attractive in the eyes of the world, through its people, brands or values.
Taiwanese examples include Yani Tseng (曾雅妮), who at the tender age of 22 is the world's No. 1 women's golfer, Hollywood director Ang Lee (李安) — the maker of Brokeback Mountain — and the world-famous Cloud Gate Dance Theatre.
For Taipei, it makes sense to use soft power as an increasingly powerful China shows no sign of relenting in its efforts to wipe out Taiwan's international presence, experts say.
"Soft power is paramount to Taiwan's efforts to pursue its diplomatic objectives," said Elizabeth Larus, a specialist on Chinese and Taiwanese soft power at the University of Mary Washington in Virginia. "Taiwan's soft power helps keep it from being marginalized in the international community."
Humanitarian aid is one area in which the nation is becoming a force to be reckoned with.
President Ma Ying-jeou (馬英九), who often refers to the value of soft power, said this month that nation had pledged about NT$5.7 billion (US$190 million) for quake and tsunami-hit Japan in a record donation of foreign aid by Taiwan.
"Taiwan is a mighty mouse in its humanitarian work," Larus said, adding that the direction of its efforts has changed in recognition of the overwhelming Chinese presence. "Taiwan has re-directed aid that once built government buildings and stadiums for diplomatic partners to humanitarian aid."
China's soft power efforts are partly focused around the offer of a societal model that combines a free economy with a conservative political system. Here Taiwan can present a viable alternative, analysts said.
"While dictators and other -authoritarian-leaning regimes may favor China's model, many democratic-leaning leaders in developing countries favor the Taiwan method," Larus said. "I would suspect that Taiwan's model is being more closely studied given the turmoil in the Middle East. Observers of that turmoil can see that stifling politics can lead to a powder keg."
Paradoxically, some observers believe that Taipei is not really pushing its soft power as much as it could do, because of a feeling that the odds are stacked against it and any effort is in vain in the face of crushing Chinese rivalry.
"There's a kind of collective shrug at the shoulders. The inclination towards proactive behavior seems to be lacking in Taiwan," said Gary Rawnsley, a China specialist at the University of Leeds.
It may be hard to measure the benefits of soft power, but it is still worth pursuing, experts say.
"It's always difficult to know how the intangibles will translate into tangibles, but I think what Taiwan needs to get first is attention. It needs to get some voice in the world," Rawnsley said. "Just get the media's attention, get the public opinion's attention, so people start to recognize what Taiwan is, where Taiwan is, recognize that it is a democracy, that it is not the People's Republic of China."
Comments will be moderated. Keep comments relevant to the article. Remarks containing abusive and obscene language, personal attacks of any kind or promotion will be removed and the user banned. Final decision will be at the discretion of the Taipei Times.