Volunteer doctor 'Grandpa Huang' receives award
DEVOTION: The 91-year-old retiree has spent the past two decades providing free medical service and mentoring to the students of Chunan High School
Huang Ding-kuo (黃定國), a 91-year-old retired doctor, was awarded the "100 Percent Loving Education" award by the Ministry of Education (MOE) yesterday for his ceaseless devotion to being the volunteer on-campus doctor for Chunan High School for the past 20 years.
Born in Jiangsu Province, China, Huang said he had been meticulously cared for by doctors when he was younger because of a disease of the windpipe, which led him to become a doctor later in life.
However, when he passed the examination at the College of Medicine in Jiangsu, World War II broke out, and soon after Huang followed the Chinese Nationalist Party (KMT) to Taiwan.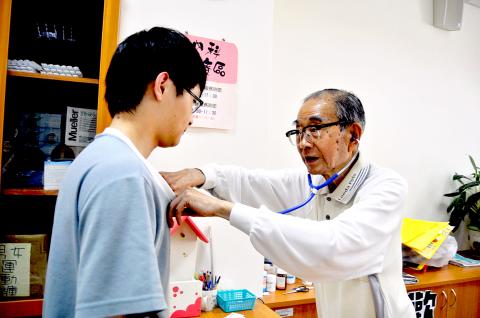 Ninety-one-year-old doctor Huang Ting-kuo listens to a student's heart on Monday at Chunan High School in Miaoli County, where he has volunteered to serve as the school doctor for 20 years. Huang also mentors many students.
Photo: Peng Chien-li, Taipei Times
Although his doctor's certificate was recognized, he was unable to get a posting at a clinical practice in his new home and he opted to be on-site doctor for national businesses such as the Highways Bureau and Taiwan Fertilizer Co.
After his retirement, he was asked in 1991 by then-principal of Chunan High School Tang Ming-kuang (唐明光) to become the school's doctor.
Huang would take the train from Hsinchu, where he lives, to Chunan High School every Monday, Wednesday and Friday, and he has been doing so for the past two decades, rain or shine.
At Chunan High School, Huang isn't just the in-house doctor, he's also a spiritual mentor for both teachers and students. The students affectionately call him "Grandpa Huang" and Huang treats the students as he would his own grandchildren.
Students visit Grandpa Huang when they feel ill and he always asks them to describe their symptoms meticulously, sparing no detail.
That is not to say that Huang has not met with students who tried to feign sickness, but he never told the students to their face. Instead, he would say something encouraging to them while asking about their symptoms and the students, with a guilty conscience, would always read between the lines and return to class, he said.
The current principal of Chunan High School, Huang Kuo-fung (黃國鋒), said he was very thankful for Huang's devotion to the school in his voluntary service.
Many alumni return to the school and visit Grandpa Huang or ask after his welfare, Huang Kuo-fung said.
Comments will be moderated. Keep comments relevant to the article. Remarks containing abusive and obscene language, personal attacks of any kind or promotion will be removed and the user banned. Final decision will be at the discretion of the Taipei Times.