Masks come off at Plurk wedding
The wedding banquet for "Lavender Sea" and "Gil" that took place yesterday may have looked just like any other such gathering — with one difference: The newlyweds didn't know the names of many of the guests in attendance because many were Plurk friends.
"You ask me if there are guests whose names I don't know? Well, there are actually quite a few," Lavender Sea, the bride, told the Taipei Times during a telephone interview prior to the banquet.
Not only that, but she cited several Internet pseudonyms.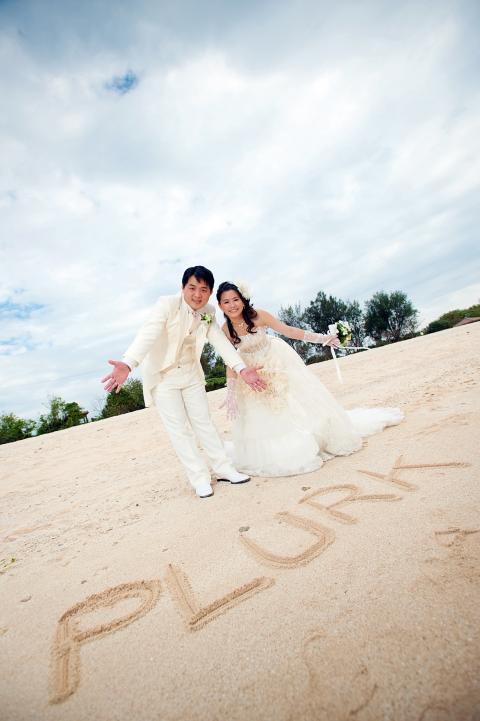 Plurkers "Lavender Sea" and "Gil" have their wedding picture taken in Okinawa, Japan, on March 11, with the word "Plurk" written in the sand. The couple considers the social networking Web site to have acted as their "matchmaker."
Photo Courtesy: Lavender Sea and Gil.
"Whether you want to write your real name on the red envelope or not, it doesn't matter, but make sure you provide your Internet nickname so we know who it comes from," she said.
It's a common practice in Taiwan for guests at a wedding to put money inside a red envelope and write their name and best wishes for a marrying couple.
Lavender Sea and Gil are actually Internet nicknames as well and many of the guests actually know them better by their nicknames.
Internet pseudonyms were an important part of the wedding because the couple met each other on Plurk and a lot of the guests at their wedding banquet were their Plurk friends.
Lavender Sea said that six out of 30 tables at their banquet in Sinjhuang District (新莊), New Taipei City (新北市), consisted of Internet friends, while about 50 people asked for invitations via e-mail rather than traditional printed invitations by mail.
"Besides not knowing the real names of some of the guests, we've actually met a Plurk friend 'Night Sun' in person for the first time today," Gil said after the banquet.
The pseudonym situation also caused some confusion at the reception table.
"I signed my real name on the guestbook and the receptionists were unable to find my name on the guest list," Plurker "Old Coconut" (老椰子) said.
What happened to Old Coconut was not an isolated case.
In fact, unlike most weddings where there is usually one reception table for friends and relatives of the groom and another for those of the bride, there was one table for friends and relatives of the couple, and another for Internet friends of the couple.
Recalling their relationship, Lavender Sea said she and Gil met on Plurk in July 2008 and met for the first time in person at the end of August.
Afterwards, they went out several times with other Plurkers, but gradually, they began to have feelings for each other as they exchanged more and more private messages on Plurk.
"At first I was a little worried, since we met on the Internet and it was a long-distance relationship," she said, adding that she was living in Taipei at the time, while Gil was in Kaohsiung.
"However, I guess neither of us were too concerned about this, so we became a couple and stayed in touch online, even if we couldn't see each other in person," she said.
The relationship developed and last year they decided to become companions for life.
Adding to the unusual nature of their relationship, the couple got married at a chapel in Okinawa, Japan, on March 11, the day the country was hit by a devastating earthquake and tsunami.
As one of the Plurker guests wrote on the red envelope, the marriage was not a "marriage made by God," but rather "made by Plurk."
Comments will be moderated. Keep comments relevant to the article. Remarks containing abusive and obscene language, personal attacks of any kind or promotion will be removed and the user banned. Final decision will be at the discretion of the Taipei Times.