Team Cobra invited to US military competition
GOOD LUCK! More than 50 teams from six countries will be participating in the competition, with events including marksmanship, rafting and obstacle courses
Thirteen students from the Republic of China (ROC) Military Academy were invited yesterday to compete in the Sandhurst Military Skills Competitions (SANCOM) held at the US Military Academy at West Point.
The competition, as well as its name, originated from the presentation of a sword by the Royal Military Academy Sandhurst to West Point to promote military excellence among the US Corps of Cadets in 1967.
This year's SANCOM will see more than 50 teams participating, with members from six countries: Taiwan, the US, the UK, Canada and Afghanistan.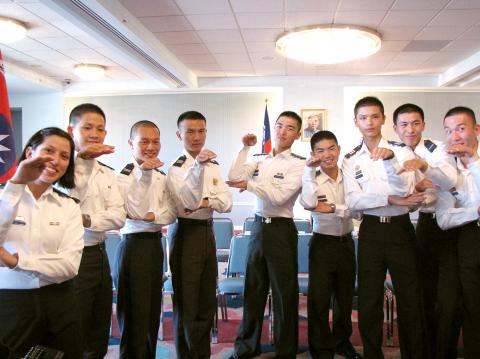 Students from the Taiwan Military Academy pose for a photo on Wednesday. Thirteen of the academy's students were invited to compete in the Sandhurst Military Skills Competitions at the US Military Academy at West Point.
Photo: Nadia Tsao, Taipei Times
This was the first time students from the ROC academy, whose team goes by the name Cobra, were invited to participate in the international military skills competition.
SANCOM will be held on Friday and next Saturday, with the eight main competitions pertaining to marksmanship, obstacle courses and rafting.
Representative to the US Jason Yuan (袁健生) held a special ceremony at the Taipei Economic and Cultural Representative Office in the US to present the team with the ROC flag.
Team leader and representative Hsiao Sheng-wang (蕭生旺) received the flag on the team's behalf.
Hsiao was recently awarded the National Outstanding Youth Award and also was an honor-roll student at the academy in Greater Kaohsiung.
"Although we are unfamiliar with the rules for the obstacle course, we should obtain good scores in the rest of the competition," Hsiao said.
Among the ROC group invited to compete in SANCOM is Salvadoran exchange student Mendoza Quan, a second-year student at the academy whose performance earner her a place in the competition.
Quan said she only started to learn to speak Mandarin after she arrived in Taiwan.
Comments will be moderated. Keep comments relevant to the article. Remarks containing abusive and obscene language, personal attacks of any kind or promotion will be removed and the user banned. Final decision will be at the discretion of the Taipei Times.