FEATURE: Keelung volunteer finds recycling in a cemetery fulfilling
For the past five years, Wu Yi-hsiung (吳義雄), a retired Taiwan Railway Administration employee, has volunteered to do environmental cleanup work at a very unusual place — a cemetery.
The invitation to help the Nanrong Public Cemetery in Keelung was offered to Wu by Chen Li-chen (陳麗貞), a volunteer for the Buddhist Compassion Relief Tzu Chi Foundation, the nation's largest charity organization.
At 2am, when most people are asleep, Wu is already up and heading to the cemetery to work. Walking through the "homes" of the ancestors, he is on the hunt for recyclable items left behind by visitors.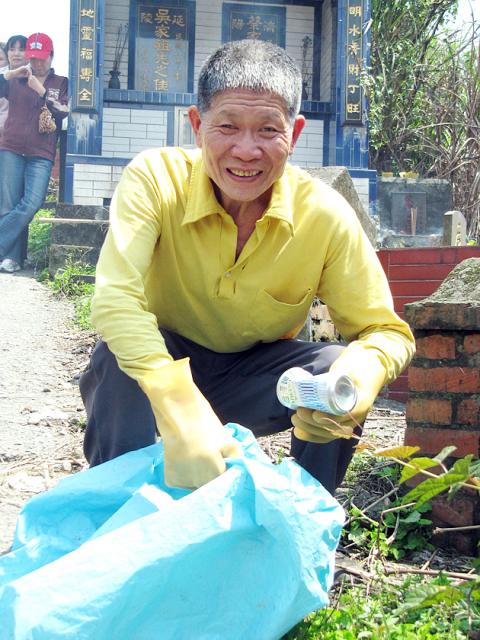 Volunteer Wu Yi-hsiung, a 70-year-old Keelung resident, collects recyclable objects at a local public cemetery on Friday.
Photo: Yang Chiu-ying, Taipei Times
Every year when Tomb Sweeping -Festival approaches, Wu gets busier. Bringing provisions and water, Wu arrives at the cemetery even before Keelung Bureau of Environmental Protection carts away the first load of trash in the morning.
He stays for the next 10 hours or so, gathering recyclables, such as cardboard boxes, plastic water bottles and other reusable material left behind by families of the deceased.
The owner of the cemetery, a long-time friend of Wu's, always tells him where there might be recyclables to find.
Wu's determination has also moved Da Mu Kung Committee commissioner Tsai Chuan-wang (蔡傳旺) to provide Wu with a space to store recyclable materials.
Da Mu Kung is the name given to cemeteries or burial sites of unidentified bodies found during road construction, building construction or the relocation of graves.
Mistaken for a tramp and considered dirty, the odd looks Wu has received have not kept him from his volunteer work.
Though it initially felt "strange" to work in a cemetery, Wu said that over time, recycling in a graveyard had put him in touch with the spirit world, which he believes helped him in one instance — one day he stepped on some steel spikes that went straight through his shoes, but right between the toes without harming him.
In his view, such luck was the result of guardian spirits.
Wu's son, a civil servant, initially opposed Wu's recycling efforts in a cemetery. Seeing his father healthier and happy after doing the recycling, however, he dropped his objections.
Wu said heaven had treated him well, giving him three good children despite the loss of his wife, adding that he should recycle more while he is still alive, both for the Earth and for the future of mankind.
Comments will be moderated. Keep comments relevant to the article. Remarks containing abusive and obscene language, personal attacks of any kind or promotion will be removed and the user banned. Final decision will be at the discretion of the Taipei Times.