Holiday traffic congestion will continue northbound
Motorists returning to work are advised to hit the road early today as northbound traffic is expected to be heavy on the last day of the Tomb Sweeping Festival, the National Freeway Bureau said yesterday.
As of 5pm yesterday, congestion was reported on several sections of the nation's freeways, including the northbound section between Pinglin (坪林) and Toucheng (頭城) on the Chiang Wei-shui Freeway (Freeway No. 5), as well as the northbound section between Hsinchu and Jhubei (竹北) on the Sun Yat-sen Freeway (Freeway No. 1).
Prior to the long weekend, the bureau had estimated that freeway traffic during the holiday period would fluctuate between 2.2 million and 2.4 million daily.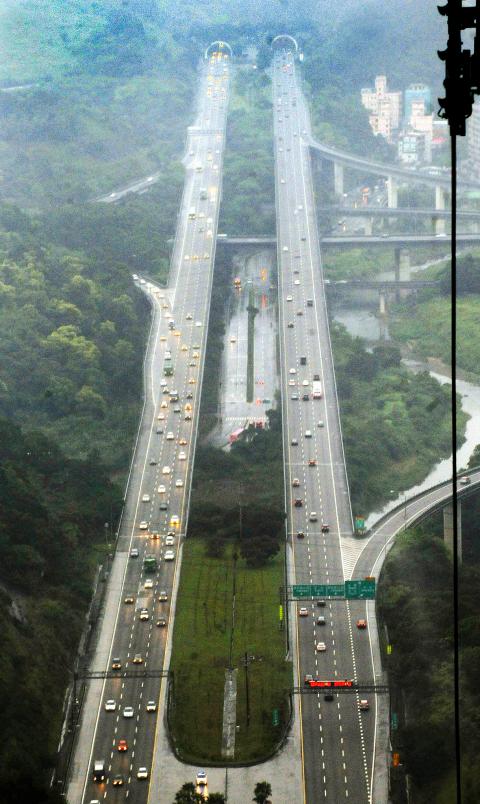 Large numbers of vehicles yesterday travel on a freeway on the third day of the four-day holiday weekend.
Photo: CNA
However, statistics from the bureau showed that 2.45 million vehicles hit the highways on the first day of the holiday, a number that jumped to 2.47 million on Sunday.
To ease traffic during the period, the bureau implemented toll-free hours between 12am and 7am. Traffic volume on Saturday, Sunday and yesterday was 2.5, 2.4 and 1.9 times the average of regular weekends respectively.
As today is Tomb Sweeping Day, as well as the last day of the four-day holiday, the bureau said northbound traffic from central and southern parts of the country was expected to increase, with significant traffic also expected within regions as families go pay their respects to their ancestors.
Northbound ramps at the Puyan (埔鹽) and Pingjhen (平鎮) interchanges on Freeway No. 1 will be closed all day today as part of the efforts to facilitate traffic flow, the bureau said.
Motorists can monitor traffic on national freeways on the bureau's Web site at, www.freeway.gov.tw, or by dialing 1968 for updated traffic reports.
Comments will be moderated. Keep comments relevant to the article. Remarks containing abusive and obscene language, personal attacks of any kind or promotion will be removed and the user banned. Final decision will be at the discretion of the Taipei Times.