Immigrant teen fulfills promise with hard work
Liu Yami (劉亞咪), a Chinese immigrant to Taiwan, recently became the pride of her family when she was accepted at Taipei Municipal First Girls' Senior High School, fulfilling a promise she made to her parents.
"My parents gave me a good environment in which to study, so I didn't want to let them down," Liu said.
Considered one of the best high schools in Taipei, Liu was accepted to Taipei Municipal First Girls' Senior High School as part of the Ministry of Education's North Star Project.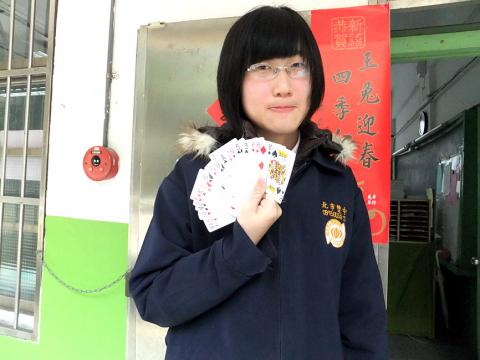 Liu Yami, a junior high school student who moved to Taiwan from China, poses for a picture on Thursday. Liu's dream is to become a magician.
Photo: Chiu Shao-wen, Taipei Times
Liu's father works as a cook at Nanmen Market, a gathering place for fruit and vegetable vendors, and her mother works as the -janitor for the building that houses the market.
Liu and her family originally come from Fujian, China, and while her family is not rich and of her parents, only her father had finished elementary school, the phrase "study some more" stuck in Liu's ears as she grew up, she said.
Liu said her parents' decision to move to Taiwan to live with their Taiwanese relatives was motivated by the lack of educational resources and the poor living environment in Fujian.
"I remember getting used to writing traditional Chinese characters. I spent more than a year reading novels and checking dictionaries, before getting used to the difference in characters," Liu said.
Since moving to Taiwan when she was in her third year of elementary school, Liu has worked hard to catch up. In part, Liu said, she was motivated by the fact that she didn't want to see a disappointed expression on her father's face.
Liu said that the scars on her father's hands also motivated her to work harder. In the six years she has lived in Taiwan, no one ever had to remind her to do her homework.
There is a great difference between educational systems on either side of the Taiwan Strait, Liu said, adding that the Chinese educational system is more rigid, -fixated on ancient texts and focused primarily on tests.
Taiwan's education, on the other hand, provides a more dynamic learning environment, she said.
In Taiwan, Liu said that one can nurture interests and talents for subjects such as music or physical education. Using herself as an example, Liu said that she dealt with stress by joining harmonica and magic clubs.
Faced with the prospect of meeting other talented students at Taipei Municipal First Girls' Senior High School, Liu said confidently that she was not afraid.
Comments will be moderated. Keep comments relevant to the article. Remarks containing abusive and obscene language, personal attacks of any kind or promotion will be removed and the user banned. Final decision will be at the discretion of the Taipei Times.