Tsai Ing-wen meets with Lee Teng-hui
Tsai Ing-wen (蔡英文), who took leave from her post as Democratic Progressive Party (DPP) chairperson starting on Friday last week after announcing her intention to seek the party's nomination for next year's presidential election, met with former president Lee Teng-hui (李登輝) yesterday, in what is believed to have been an attempt to secure Li's public endorsement.
A source who attended the closed-door meeting at Lee's residence said that the former president "offered Tsai ample praise" and said she had the necessary leadership qualities, but stopped short of offering a full-on endorsement.
"He said he hoped that I would continue to do what I've been doing and that it would succeed," Tsai said in response to press questions following her meeting with Lee.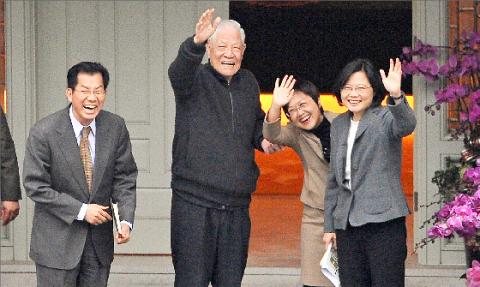 Democratic Progressive Party (DPP) Chairperson Tsai Ing-wen, right, waves outside the residence of former president Lee Teng-hui, second left, after a 30-minute meeting between the two yesterday. They are accompanied by former Cabinet secretary-general Lee Ying-yuan, left, and DPP Taipei City Councilor Hsu Chia-ching, second right.
Photo: Liu Hsin-de, Taipei Times
Tsai was the second party heavyweight to throw her hat into the ring, following former vice president Annette Lu (呂秀蓮), who announced her candidacy last month.
Tsai has been ramping up her campaign recently to give herself a lead over former premier Su Tseng-chang (蘇貞昌), seen as almost certain to confirm his candidacy for the DPP nominations early next week.
At a separate setting yesterday when asked about the possibility of running on a joint ticket with Tsai, Su said it was "much too early" to tell.
"I believe that the DPP needs to be united before we can unite Taiwan [behind us]," said Su, who ran as the DPP's vice presidential candidate in 2008.
A final decision on the party ticket is expected by May 4 at the latest, although it could take place much sooner depending on the outcome of negotiations set to take place on April 6.
If the negotiations fail to reach an amicable conclusion, then the DPP will hold telephone polls between April 25 and April 29.
Additional reporting by CNA
Comments will be moderated. Keep comments relevant to the article. Remarks containing abusive and obscene language, personal attacks of any kind or promotion will be removed and the user banned. Final decision will be at the discretion of the Taipei Times.