JAPAN DISASTER: Size of cash aid to Japan questioned
Lawmakers across party lines questioned Minister of Foreign Affairs Timothy Yang (楊進添) yesterday over the cash donation the Ministry of Foreign Affairs initially offered to Japan.
The initial amount of US$300,000 was considered small by several lawmakers at the legislature's Foreign and National Defense Committee.
The ministry had issued a statement on Friday announcing it would donate US$300,000 to Japan to help with disaster relief hours after the northeastern part of Honshu island was struck by a massive earthquake and powerful tsunami.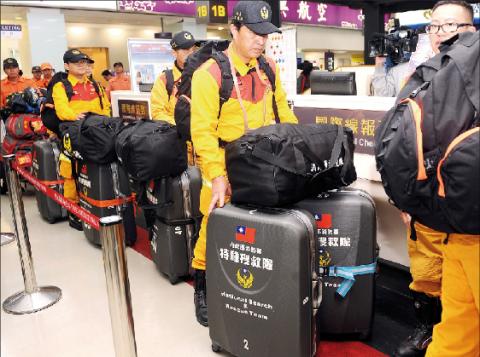 A joint Taiwanese rescue team, formed by the National Fire Agency and related government agencies, departs yesterday from Taipei International Airport (Songshan airport) for Japan to assist in search and rescue efforts there.
Photo: Chang Chia-ming, Taipei Times
The amount was raised to NT$100 million (US$3,382,000) the next day in an announcement by President Ma Ying-jeou (馬英九).
In response, Yang told the lawmakers that the initial donation was offered when the disaster did not appear that serious and out of concern over limited budget earmarked under the ministry for the purpose of international aid.
The donation, which has yet to be given to Tokyo, will be funded from the annual budget of NT$300 million earmarked under the ministry for the purpose of international aid programs, Yang said.
Yang added that Taiwan had offered to send rescue teams to Japan from the outset, but Japan initially asked Taiwan to hold off because of logistical concerns.
Yang said Japan told Taiwan on Sunday night it welcomed a Taiwanese rescue team if they can work without logistical support as the Japanese government was unable to provide assistance at a time when the situation in disaster-affected areas was in a state of chaos.
As for the list of humanitarian aid Japan has requested from Taiwan, the ministry said it has collected most of the items through donations made by the public, charity groups or purchased by the ministry, and that the first batch of relief supplies sent arrived in Japan yesterday.
China Airlines, Taiwan's largest carrier, said it was working with the relief mission and that it had landed 5,100kg of relief supplies, including blankets, sleeping bags, jackets and food rations at Haneda Airport on the same flight that was carrying a 28-member search and rescue team from Taiwan.
ADDITIONAL REPORTING BY CNA
Comments will be moderated. Keep comments relevant to the article. Remarks containing abusive and obscene language, personal attacks of any kind or promotion will be removed and the user banned. Final decision will be at the discretion of the Taipei Times.